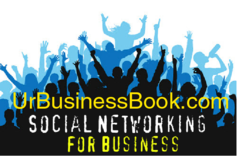 UrBusinessBook.com the new Social Media Networking for Businesses
Fredericksburg, VA (PRWEB) April 06, 2012
UrBusinessBook.com is the super highway to social media success. With this promotion going on right now, join today to get the first 3 months "free."
UrBusinessBook.com utilizes social media to work for businesses, not letting the competition get one step ahead. Word of mouth advertising is the new standard for businesses.
When a businesses decides to jump head first into the social media world, think of UrBusinessBook.com.
UrBusinessBook.com implements tools for communicating with family, friends, current, past and potential customers in a way to promote a business to the top of the social media world.
UrBusinessBook.com eliminates the high cost of advertising by using social media. UrBusinessBook.com allows businesses to dive into networking within social media, to jump start a business without compromising opportunities.
UrBusinessBook.com allows companies to brand their company name, goods or services, which is important in today's market. If no one knows about the business name, then that business has no chance of survival. UrBusinessBook.com gets businesses on the fast track to the top of all major search engines. Big companies no longer have the advantage. UrBusinessBook.com makes branding a company name easy and gets the business name everywhere.
UrBusinessBook.com generates traffic through social media to get current and potential customers to the front door of a business. Informing them what a business has to offer to its consumers, keeping the consumers on the hook waiting to see what's happening next. UrBusinessBook.com provides businesses a current storefront website page to show off detailed information about the products or services a business has to offer. It is very simple for consumers, by providing everything a customer is looking for IE: phone number, contact email and a way to connect directly to people for goods or services.
UrBusinessBook.com keeps it simple. If it is not simple, people will leave and the potential customer will be lost forever.
UrBusinessBook.com opens communication between consumers and businesses to keeps customers informed on what is going on within a business. With daily updates, specials and current events this gets customers involved by sharing information about a business and creates a "Buzz" about a business to increase new daily interaction with customers to help the business succeed.
UrBusinessBook.com social media networking site has an advantage to get a business right to the top of all major search engines. This opens the conversations for potential and current business customers. Remember word of mouth is the #1 advertising in the world.
UrBusinessBook.com is the newest social media network for businesses. Included is the ability to create blogs, events, forums, offers (coupons) and post classified ads. Businesses should be in the middle of the social media highway.
New Business arrivals to UrBusinessBook.com:
DeHanas Real Estate Services offers unparalleled service to all clients.DeHanas Real Estate Services serves the entire Maryland real estate market including the areas of Calvert County, Charles County, Prince George's County, and St. Mary's County. In Virginia, The DeHanas Team serves the Counties of King George, as well as all of Northern Virginia, and of course Washington DC. Whether considering buying a home, selling a home or both, contact us https://www.urbusinessbook.com/businessitem/DeHanasRealEstateServices
Robert D. Samuels / Expert Home Electric
Since 1972 Robert D. Samuels has been serving homeowners, businesses in Fredericksburg, Spotsylvania, King George and the surrounding areas. We know that our success is measured by our performance; with that said, we hire only skilled, licensed electricians who love their trade and take pride in the quality of their work. They are highly trained professionals with the knowledge & experience necessary to provide the utmost safety of your electrical system. As part of Expert Home Electric, all employees are also background-checked and drug-tested before being hired, because we know how important it is for you to be able to trust who is in your home or business.
https://www.urbusinessbook.com/businessitem/rdselectric