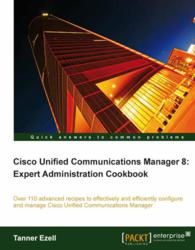 A detailed step-by-step manual covering the important and advanced aspects of administering Cisco Unified Communications Manager.
(PRWEB) April 05, 2012
Packt Publishing is pleased to announce Cisco Unified Communications Manager 8: Expert Administration Cookbook a new book and ebook aimed at professionals looking for advance recipes to perform important administration tasks.
Written in an easy-to-read style by Tanner Ezell this practical guide will help the reader focus on implementing Local Route Groups, Device Pools, Route Patterns and various other call routing technologies with a specific focus on building an E.164 compatible dial plan.
This book will enable the user to master the necessary aspects of configuring media resources to support conferencing and transcoding. It highlights details on advanced features such as cross cluster extension mobility, the inter company media engine, and call monitoring and recording.
Some of the principal chapters emphasized in this book are:
Chapter 1: Call Routing, Dial Plan, and E.164
Chapter 2: Call Admission Control
Chapter 3: Media Resources and Music On Hold
Chapter 4: Tracing and Troubleshooting Tools
Chapter 5: Device and Unified Mobility
Chapter 6: User Management
Chapter 7: User Features
Chapter 8: Advanced Features
Chapter 9: Securing Unified Communications
Chapter 10: Serviceability, Upgrades, and Disaster Recovery
Chapter 11: Bulk Administration Tool
Cisco Unified Communications Manager (CUCM) is a software-based call-processing system developed by Cisco Systems. CUCM tracks all active VoIP network components; these include phones, gateways, conference bridges, transcoding resources, and voicemail boxes among others. This scalable, distributable, highly-available enterprise-class system delivers voice, video, mobility, and presence services.
Packt Publishing has also released and is due to publish other titles:
FreeSWITCH Cookbook (Published)
OpenVPN 2 Cookbook (Published)
Cacti 0.8 Beginner's Guide (Published)
Metasploit Penetration Testing Cookbook (Due 2012)
Rhomobile Beginner's Guide (Published)
Packt Enterprise has a wide range of Networking & Telephony books. Packt Enterprise is a publishing division of Packt Publishing created to serve the information needs of IT Professionals in the Enterprise space. Packt Enterprise also publishes on Microsoft, IBM, Oracle, Citrix, Java, Amazon, Google and SAP technologies.