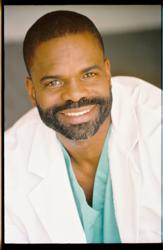 The future of our people and the viability of our country hangs in the balance of our health
Los Angeles, CA (PRWEB) April 04, 2012
Dr. Bill James Releford, medical director of the Releford Foot and Ankle Institute, will deliver the keynote address to over 300 health care professionals at the U.C. Davis School of Medicine on April 27, 2012. "Programs that address the issues of health disparities are important and must continue until we see improvements in health outcomes in the most vulnerable among us", states Dr. Releford, who is in private practice in Los Angeles specializing in diabetic limb preservation.
ABOUT THE NORTHERN CALIFORNIA BLACK PHYSICIANS FORUM
The Northern California Black Physicians Forum (BPF) was initiated in November 2010 and developed in partnership with the Sierra Health Foundation along with an extraordinary team of physician and community Advisory Committee Board members. The first annual BPF was held in February 2011at the Sierra Health Foundation in Sacramento, California. See the YOUtube video clip from last year's BPF event.
The purpose of BPF is to connect physicians with colleagues throughout Northern California to discuss physician leadership and potential collaborative roles in chronic disease education, prevention, and health care access for communities of color. Our physicians are personally committed to reducing health care disparities in Northern California urban communities of color and look forward to future alliance with other health care professionals.
Our concerted "Call-to-Action" is twofold: 1) encourage physicians to increase health care services at no to low costs and 2) support programs that reduce disease, disability , and death in African American communities of Northern California. This Call-to Action evokes the later lines of the Modern Hippocratic Oath penned in 1964 by Dr. Louis Lasagna, Dean of the School of Medicine at Tufts University:
ABOUT DR. BILL J. RELEFORD
Dr. Bill J. Releford, a podiatric surgeon based in Los Angeles, is a graduate of the Temple School of Podiatric Medicine in Philadelphia. He began his practice in 1990 and established the Diabetic Foot Institute. As a podiatric surgeon based in Los Angeles, Dr. Releford specializes in diabetic limb salvage to help reduce the extraordinary high number of diabetes-related amputations experienced by African Americans. The astronomical amputation rate in the African American community inspired Dr. Releford to dedicate his life to developing innovative medical as well as advocacy strategies to increase health awareness and decrease diabetes and the amputation rate in underserved communities.
Dr. Bill J. Releford, launched two innovative initiatives to address health disparities in the African American community. The Black Barbershop Health Outreach Program was launched October of 2007 out of the need to address health care disparities among African American men with the mission to SCREEN, EDUCATE and REFER men to local health care resources. Additionally, Dr. Releford authored the book "The 5 Colors a Day to Better Health" in February 2009 to address the lack of awareness about healthy food choices and the consequences of developing diabetes and other chronic diseases. "The 5 Colors a Day to Better Health" introduces a simple way for people of all ages to choose better foods to promote better health. The book is the foundation of Dr. Releford's national campaign to fight diabetes, obesity and high blood pressure. To help people achieve their health goals and objectives, a fitness component and a cooking device have been developed that will allow busy people the opportunity to prepare healthy meals for their families.
Dr. Releford and his efforts have recently been highlighted in the Los Angeles Times, The Washington Post, Newsweek Magazine, THE VIEW, THE DOCTORS, NBC Nightly News with Brian Williams as well as the TODAY SHOW and more. Additionally, Dr. Releford's innovative community organizing strategies culminated into an invitation from President Obama to attend this year's White House Super Bowl Party.