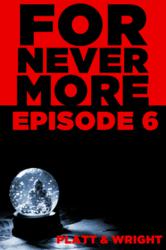 "We want to be the HBO, AMC, or Showtime of the publishing world."
Cincinnati, OH (PRWEB) April 04, 2012
Indie authors, Sean Platt and David W. Wright are marching into April with their 13th book in 13 weeks. Their book-per-week pace began on January 10th with the second season of their successful post-apocalyptic serial "Yesterday's Gone." They followed in February and March self-publishing their paranormal young adult serial, "ForNevermore."
"We want to be the HBO, AMC, or Showtime of the publishing world," Wright said. "Those networks consistently bring you awesome serialized drama week after week. When one show's season ends, they have another on deck and ready to go. We're doing the same thing with our books. We love the serialized format."
While the writing duo experimented with online serialization in 2008, they felt reading on browsers was less than ideal. They wanted to be published, to have their serials in book form. However, the odds of a publisher taking a chance on serializing two unknowns was less likely than winning the lottery, said Platt. At the time, e-books had not yet become widely accepted.
"And then Amazon and the Kindle happened," Platt said. "Suddenly authors didn't have to worry whether a publisher was willing to take a risk on them. All they had to do was find their audience. And last year, we did just that. We're so thrilled with the opportunity that Amazon, and our readers, have provided us to deliver the kind of dark fiction that we enjoy."
Platt and Wright credit Stephen King's serialized novel "The Green Mile" as their initial writing inspiration.
"I loved waiting for each new book of 'The Green Mile,'" said Wright. "There's something magical about serialized fiction. It allows you to get lost longer in other worlds, and there's a real sense of dread as you come to the end of each book, just knowing that the words, 'to be continued...' are coming at any moment. I don't know why many more authors haven't experimented with serials after King."
While King may have served as Wright's early inspiration for writing a serial, the authors also say they learned character development and pacing from their favorite serialized TV shows such as "LOST," "The Wire," and "The Walking Dead."
They even borrow television terminology such as "episodes" to refer to their individual books which range from 12,000 words to 25,000 words in length and end with cliffhangers designed to bring readers back each week. They also write their story arcs in "seasons" which run for six episodes before they end the season.
Platt and Wright will follow "ForNevermore's Season One" compilation book (April 10) with the short story collection, "Dark Crossings 2" (April 17), and will go straight into their next series, the sci-fi horror title, "WhiteSpace" on April 24.
Follow their book-per-week year-long challenge at their Collective Inkwell blog: http://collectiveinkwell.com
Start reading "Yesterday's Gone" with the first free episode: http://www.amazon.com/dp/B005FHO9AU/
Read the first episode of "ForNevermore" here: http://www.amazon.com/dp/B007EEF3TS
Collective Inkwell is the indie publishing company of Sean Platt and David Wright.
Contact David Wright at collectiveinkwellmedia(at)gmail(dot)com