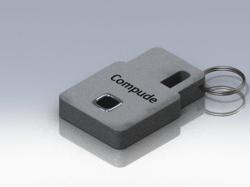 COMPUDE HAS THE WORLD'S SMALLEST SECURE FINGERPRINT READER
San Francisco (PRWEB) April 04, 2012
Makers of Compude, a device that fits on a keychain and allows customers to have a personal or office PC anywhere, today Compude revealed its inaugural product and announced that it is pursuing early-stage funding through Kickstarter.com
By plugging the Compude device into any smart phone, tablet or computer, it becomes the PC a user has at home or in the office. Unlike other virtualization offerings on the market Compude is simple to use and at the leading edge of security, employing among other things the WORLD'S SMALLEST FINGERPRINT READER.
"Compute had been in development for 24 months and in that time nothing comparable on the market that is as drop-dead easy and secure as Compude. "The Compude team has perviously bootstrapped successful apps before, but this time they wanted to give people an opportunity to eliminate the secrecy, reveal a product early and give anyone a chance to take part in their early success."
The Compude device can be previewed on Kickstarter.com.
About Compude
Compude is the developer of the Compude device, the best solution for turning any device in to your own personal computer. Compude is based in Los Angeles, California. More information is available at:
Kickstarter.com
http://www.compude.com