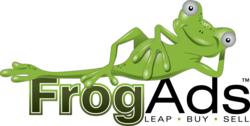 Hollywood, CA (PRWEB) April 04, 2012
FrogAds.com (OTCBB: FROG) announced today that its national media campaign has been pushed 24-hours due to creative and content driven conflicts with the CNBC's network specifications.
The campaign will now roll out in Los Angeles as early as today with additional major markets to follow on Thursday, April 5th including New York, Chicago, Miami, Atlanta, Dallas and San Francisco.
The FrogAds.com 30-second News Break will air between the hours of 6AM and 9AM PST on some of the highest rated CNBC programs including Squawk Box and Squawk on the Street.
Founder and CEO of FrogAds.com, Julian Spitari said "We are disappointed with the slight delay however we were not willing to compromise our creative integrity or our carefully executed marketing strategy for the campaign."
FrogAds.com is a free global market place for both classifieds and auction that enables you to post ads, photos and videos making them visible to the global marketplace.
If you are interested in learning more about this innovative website, please reference their stock symbol FROG or visit FrogAds.com
Contacts
For additional information on the Company, please visit http://www.FrogAds.com or contact Scripted Consulting – info(at)scriptedconsulting(dot)com
Forward-Looking Statements
http://www.lakegrp.com/host/IR/SafeHarbor.htm