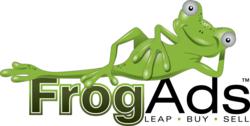 Hollywood, CA (PRWEB) April 04, 2012
FrogAds.com (OTCBB: FROG) announced that a feature story ran on April 2nd in one of the leading business news publications, Los Angeles Business Journal.
The article is from a recent interview with Julian Spitari that took place just hours after the press conference held in Los Angeles announcing Pamela Anderson as the new spokesperson for FrogAds.com.
The full electronic version of the recent issue of Los Angeles Business Journal is available on newsstands, online by subscription or by clicking the link below and scrolling to Page 3, to the article STAR POWER WANTED. Star Power Wanted.
http://edition.pagesuite-professional.co.uk/launch.aspx?referral=mypagesuite&pnum=&refresh=Gw605J1gZp70&EID=f82814a3-354f-4cf2-ae2c-75cf427c57fb&skip=
FrogAds.com is a free global market place for both classifieds and auction that enables you to post ads, photos and videos making them visible to the global marketplace.
If you are interested in learning more about this innovative website, please reference their stock symbol FROG or visit FrogAds.com
Contacts
For additional information on the Company, please visit http://www.FrogAds.com or contact Scripted Consulting – info(at)scriptedconsulting(dot)com
Forward-Looking Statements
http://www.lakegrp.com/host/IR/SafeHarbor.htm