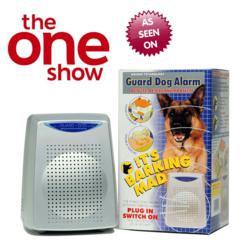 Unfortunately there are times when a highly-trained Chihuahua just won't cut it...
Chorley, Lancashire (PRWEB UK) 4 April 2012
Fresh from their appearance on ITV's 60 Minute Makeover, Chorley based lighting specialists Festive Lights are to have another of their products paraded on national TV. This time it's a product from their security product range, namely the Guard Dog Intruder Alarm.
The tough economic climate and resultant increase in burglaries nationwide has meant that many people are being forced to consider the security at their own home or place of business. We can't all install high-tech CCTV systems and so many people instead rely upon the good old traditional guard dog.
Unfortunately there are times when a highly-trained Chihuahua just won't cut it, and not everyone is able to keep a dog in any case. Luckily the answer is here in the shape of the Guard Dog Intruder Alarm, which uses an infra-red motion sensor to trigger a high quality audio clip of a very angry sounding dog, barking furiously. Such a simple deterrent has been proven to be very effective, and is an excellent complement to more traditional security measures like solar security lights.
Martin Higginson, eCommerce Manager at Festive Lights Ltd recommends the use of the Guard Dog Intruder alarm, "I actually have one of these at home. The sound is incredibly realistic and I'm pleased to report that I haven't been burgled since I started using it, although I have scared myself a few times by leaving it on overnight and forgetting about it!"
You might not immediately associate a company named Festive Lights with security products, but Director Mark Higginson, who set up the company with wife Margaret in 1999, is also the inventor of the Disklok car steering wheel lock, and festive-lights.com has stocked a wide range of security products ever since its launch in 2004. They do, of course, also stock a huge range of indoor and outdoor lights including Christmas lights, for which they are perhaps most famous.
Follow Festive Lights: