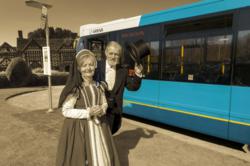 "Another great example of how partnership working can reap huge benefits for our customers, making passengers' journeys as easy and pleasant as possible." Jim Barclay, Merseytravel Interim Chief Executive
Liverpool, UK (PRWEB UK) 4 April 2012
Merseytravel and the National Trust are continuing their joint partnership to provide a direct bus service to Speke Hall this Spring and Summer.
The Speke Hall Shuttle will run non-stop between Liverpool South Parkway Station and Speke Hall on Saturdays, Sundays and Bank Holidays from 6th April to 9th September 2012.
Jim Barclay, Merseytravel Interim Chief Executive said: "We are pleased to be able to support this service, providing a link for visitors between Liverpool South Parkway and Speke Hall, enabling them to travel all the way by public transport.
"This is another great example of how partnership working can reap huge benefits for our customers, making passengers' journeys as easy and pleasant as possible."
Simon Osborne, the Trust's Liverpool Properties' Manager said: "We'd like to thank Merseytravel once again for its generous support in providing this service. Over the past couple of years it has proved very popular with our visitors, providing them with an alternative and environmentally friendly way of travelling to a National Trust venue."
The Speke Hall Shuttle is a fully accessible single decker vehicle and will depart from Liverpool South Parkway station every half hour to Speke Hall, from 10:38am. The last bus leaves Speke Hall at 1650.
Merseytravel local passes, English National Concessionary Travel Passes, Solo, Trio and Saveaway passes are all welcome on the service. The fare is £1.10 Adult/50p Child. For more information and a timetable, ring Traveline on 0871 200 22 33 or go to http://www.merseytravel.gov.uk and click on the link on the homepage.
Speke Hall is open Wednesdays - Sundays, 11am - 5pm, and Bank Holiday Mondays. (Please note entrance to house between 11am - 1pm is by guided tour only and tickets are issued on a first come first served basis).
For further information on Speke Hall go to [http://www.nationaltrust.org.uk/spekehall or call the Infoline on 0844 800 4799