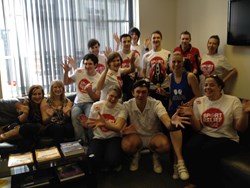 We were really pleased when they said they'd be doing their own fundraiser, it shows how much they care about their clients.
(PRWEB UK) 5 April 2012
Online marketing and search conversion experts (http://www.clickthrough-marketing.com/services/conversion-optimisation-services/) ClickThrough Marketing have raised more than £650 for Sport Relief this year – after cycling the distance to London and back.
Staff at ClickThrough HQ in Lichfield, Staffs, took to the saddle of two exercise bikes, equipped with hi-tech displays showing how fast they were pedalling, and how far they'd travelled.
The team decided to try to cycle the distance from HQ to Trafalgar Square, London - a total of 118 miles - over two days.
At the end of the first day, on March 19, the team had already reached their target: so they decided to double-up on the challenge, and cycle the virtual 118 miles back to HQ on March 20.
ClickThrough senior account director Adam Symes, who organised the fundraiser, said: "We've worked with Comic Relief for the past two years, helping to improve their Internet marketing, online visibility, and donations.
"We really believe in Comic Relief as a good cause, and for the last two years, we've organised fundraisers here at ClickThrough HQ to help out.
"This year's cycling challenge was a tough one: but everyone pitched in and we were delighted to complete it in such good time.
"We've raised more than £680 for Sport Relief to boot: so we're really delighted."
Sport Relief is part of the Comic Relief charity, which organises annual fundraisers in conjunction with the BBC. This year's Sport Relief took place from March 23 to 25, with celebrities such as John Bishop and Andrew 'Freddie' Flintoff attempting physical feats of endurance and sporty world records to raise cash for charity.
Ashleigh Lytton, from Sport Relief, said: "We've been working with ClickThrough to improve the amount of donations we get online. We were really pleased when they said they'd be doing their own fundraiser too: it shows how much they care about their clients."
Members of ClickThrough's search engine optimisation, web content development and pay per click teams took turns in the saddle – clocking up 15 minutes of cycling at a time, with an average distance of around six kilometres per person per session. ClickThrough raised a total of £680 on the day.
For more information on ClickThrough Marketing, search engine optimisation and PPC, visit http://www.clickthrough-marketing.com.
ENDS
Notes to editors:
For more information, please contact: Alistair Harris, Content Manager, ClickThrough Marketing.
Telephone: 01543 410 014
Email: aharris(at)clickthrough-marketing(dot)com
About ClickThrough Marketing:
ClickThrough Marketing (http://www.clickthrough-marketing.com) is a search and Internet marketing agency specialising in conversion optimisation. Since 2004, we have helped clients in the UK, USA and Europe reach new customers, using proven, ethical search marketing know-how. We pride ourselves on giving honest, actionable Internet marketing advice and online PR services. Whether you are thinking of changing your search or digital marketing agency, wanting search engine optimisation for your websites, or are just looking to improve your online PPC and organic conversion rates, our team of search conversion experts can help.
About Sport Relief:
As one of the UK's biggest fundraising events, Sport Relief brings the entire nation together to get active, raise cash and change lives. All the money raised by the public helps people living incredibly tough lives, both at home in the UK and across the world's poorest countries.
As the nation celebrates the biggest ever year of sport, the entire country can join in the fun with Sport Relief 2012 from Friday, March 23 to Sunday, March 25.
Over one million people are expected to take part in the Sainsbury's Sport Relief Mile as they raise cash to change lives at home and across the world's poorest countries. And, with a whole weekend of entertainment planned across the BBC, it's all set to be huge.
To get involved in Sport Relief 2012, visit the website: http://www.sportrelief.com.
Over the past decade, £124m has been raised through Sport Relief and a lot of lives have been transformed as a result.
Sport Relief is an initiative of Comic Relief, registered charity 326568 (England/Wales); SC039730 (Scotland).