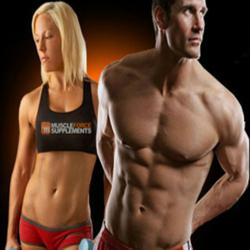 London, UK (PRWEB UK) 4 April 2012
Bodybuilding is becoming a burgeoning industry worldwide. With a massive rise in value over the last few years and an increasing stake in the nutrition and exercise market, bodybuilding seems set to achieve more prominence over the coming years as it gains more exponents all over the globe. When thinking about taking up this sport, there are a number of things everyone should take on board before taking to the gym. Simon James of Muscleforce Supplements offers his eight top tips for beginners to coincide with the company's latest offer, that new customers to 'Like' their Facebook page will receive a 5% discount code to use on their firs order;

Increase Weight Gradually
The first priority when beginning weight training is to focus on lifting more and more weight over time. Over the course of weeks more weight should be added to the bar, being careful not to overdo it - too much too quickly can have a detrimental effect. During this process it is possible to get "stuck". This means that weight gain may stop for a while. If this is the case, then other strategies such as dropsets can be employed. This is also the case when optimum weight or musculature has been achieved and no more weight needs to be added but simply maintained.
When weight training, a good diet is absolutely essential to achieve the desired results. Not enough amino acids necessary for synthesising new muscle or carbohydrates to form new muscle tissue will make it impossible to build and maintain a good weight. Foods rich in protein such as fish, chicken and egg whites; healthy fats such as those found in nuts and seeds; and fruit and vegetables are also vital. During weight training it is also crucial to increase calorie intake, so it is helpful to eat little and often. Six to eight meals a day including one after working out will help increase bulk and keep the metabolism ticking over.
Don't Exhaust The Central Nervous System
Although it is important to work outside the comfort zone, it is important that muscles are not pushed to the point exhaustion. Central Nervous System Fatigue is common in body builders who strive to lift weights to the point of failure and can be hugely detrimental to hitting targets, as the body will require more rest and therefore will be capable of less training. By working to a point just before failure, this potential problem is eliminated.
As with all forms of exercise, variation is an important part of any bodybuilding program. Not only will this reduce the possibility of becoming bored, it will also give certain muscles time to recover. It is also likely that after a period of weeks, the body will reach a plateau and stop responding to exercise, failing to gain more muscle. It is therefore essential that the order of exercises, rest between sets and the type of exercises undertaken are changed regularly.
Focus On Compound Exercises
Through focusing on compound exercises, a body building program is likely to be far more effective. A program that is built up mostly of exercises that work at least two muscle groups such as squats (hamstrings and quads) and shoulder presses (shoulders and triceps) will maximise the potential of the workout.
It is of the utmost importance to get enough rest between workouts to allow the muscles to recover. A day off between each one should be allowed for respite with only a light jog or walk for cardio purposes permitted during this time, and only if absolutely necessary. Failing to get enough rest will slow down the process in the long run and blight progress.
Use The Right Supplements
There are many different types of supplements available on the market today tailored towards different needs. Although some are aimed specifically at focusing on quickly increasing protein intake, recent developments have seen new products launched that aim to supplement the bodybuilder's diet as a whole. PhD Diet Whey, PhD Pharma Whey and PhD Synergy ISO 7 for example have all been scientifically developed to supplement all requirements and include ingredients such as amino acids, L Carnitine and Essential Fatty Acids to aid overall improvement.
Again, as with all exercise programs, it is absolutely essential that the body is well hydrated. Good hydration will increase protein synthesis and improve metabolism, and is particularly important if a lot of sweat is lost during exercise.
Muscleforce Supplements is a leading UK supplier of a wide range of bodybuilding supplements, offering free delivery on all products. Muscleforce Supplements offer a comprehensive range of products essential to an effective exercise program and essential advice and bodybuilding tips.