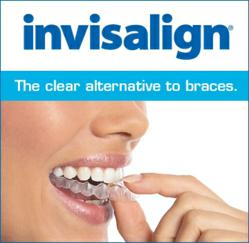 Invisalign patients leave so happy with the product because it's not only effective but it gives them the confidence to keep smiling!
London, UK (PRWEB UK) 4 April 2012
Invisalign braces have been seeing a remarkable rise in popularity recently. The aligners, which are completely transparent, have gained popularity largely because they are very difficult to notice when compared to traditional, "tram track" fixed braces and are especially popular with people whose teeth need straightening as they get older and more image conscious. Turret Orthodontics has recently brought the popular Invisalign treatment to Manchester, offering an alternative to traditional fixed braces, to patients who may feel conscious about having metal braces on their teeth.
Many advocate Invisalign because they are removable, stating that they are more hygienic than conventional braces and dentists have positively affirmed that they tend to cause less damage to gums and supporting tissues in the mouth. Treatment with Invisalign also tends to last for shorter periods and fewer complications have been said to occur.
Since adding new distribution partners in Europe, the Middle East and Africa during 2010 and launching in China in mid-2011, Invisalign seem to be on the point of total global domination.
This is in no doubt partly due to its considerable number of celebrity endorsements. In a recent issue of InStyle Magazine, Emmy-award winning Grey's Anatomy star Katherine Heigl advocated the use of Invisalign saying that, "it's awesome because every week I get to switch to a new retainer. Pretty much the perfect way to describe Invisalign is Netflix for your teeth."
And she is by no means alone, teen-sensation Justin Bieber is also a popular exponent of these retainers, and in 2009 it was revealed that Cheryl Cole wears Invisalign at night to maintain her L'Oreal contract winning smile. Keith Urban, Gisele Bündchen, Zac Efron, Tom Cruise and Oprah Winfrey are also amongst the legion of global stars who are proponents of this ever-growing brand.
But dentists believe that there is more to it than simple idol worship and emulation. Amanda Lowrie, representative of Turret Orthodontics - who specialise in invisible braces in Manchester - is extremely positive about the future; "Since we started fitting Invisalign braces, the response has been overwhelming." She continues, "The customers leave so happy with the product because it's not only effective but it gives them the confidence to keep smiling. That is the main difference between Invisalign and conventional braces – confidence."
Anita, a 24 year old client at their Manchester clinic agrees, "As an adult I didn't want to walk around with metal braces, I feel like I'm too old to get away with that now. Invisalign is great though, I get the straight teeth without people even knowing I'm wearing braces and having orthodontic treatment."
Turret Orthodontics is a leading North West orthodontic clinic, offering, amongst other treatments, Invisalign in Manchester.