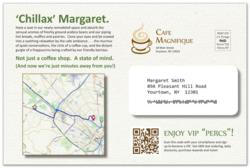 Well executed cross-media campaigns including personalization . . . have shown response rates of 5% to 8% and more.
Albany, NY (PRWEB) April 06, 2012
Accuprint has added yet another powerful tool to their variable data printing and direct marketing services with variable, personalized map printing. As the marketing community continues to embrace the dynamic capabilities and revenue generating power of variable data printing, Accuprint owner Don Blais and his staff are continually seeking new ways to give clients a competitive edge in their vertical markets. "With this personalized mapping system, we're yet again bringing unique direct marketing solutions to the marketplace," he said. Custom, personalized maps are the perfect solution for retail businesses, as well as those with multiple locations, where the convenience of geographical proximity can lead consumers to choose one business or brand over another. "Just seeing a customized map on a direct mail piece, and realizing how close a business is to their location, is enough to persuade many prospects to use that business instead of their competitor," Blais said.
Use of variable data printing has been steadily increasing over the past few years. This printing technology allows each sheet coming off a digital press to be uniquely versioned with personalized data specific to the recipient, which in turn leads to greater response rates. Also known as personalization, database marketing, 1:1 (one to one) and relationship marketing, it is a powerful method of creating more personally relevant and engaging communications with customers. This personalization can be applied to text, images, or even complete layouts and offers.
Using a standard mail list, Accuprint applies GIS (Geographic Information System) coordinates to each address. These are then transposed onto a map image, and a driving route is traced between the recipient's address and that of the mailer. "It is truly a fascinating process to watch. We've been searching for ways to bring this feature to our customers for quite some time," Blais said. "One of the most exciting features of these personalized maps is our ability to scan multiple business addresses, and then find the location that is closest to the prospect. So each map not only shows the starting point, such as a homeowner's address, but also an individualized route to the nearest business location." Banks, credit unions, car washes, medical facilities, grocery stores, or any retail business can benefit from this marketing technology. It is particularly powerful with new homeowner and mover mailings, where a consumer may not yet be familiar with an area.
Accuprint is one of the few print providers in the area now offering these specialized direct marketing solutions. While businesses might traditionally use an agency for strategy and creative development, a commercial printer for production, and then a mailhouse for mail processing, the marketing professionals at Accuprint handle the entire campaign process, start to finish, in-house. Doing so not only dramatically cuts costs, but also shortens the time to market, and eliminates potential conflicts between data, print procedures and mailing requirements. "Variable data, and in particular variable imaging such as mapping, requires tremendous attention to detail. The smallest misstep can ruin a campaign. By controlling the entire process in-house, from the initial exploratory meeting with our customers all the way through to the mail drop, we eliminate the possibility of miscommunication, data or production errors," Blais added.
The value of this personalized mapping technology, and variable data printing in general, is realized in the revenue generation for marketing organizations. According to the DMA, average response rates for generic mass marketing traditionally hovers in the 1.3% range. Using personalization as part of a strategic direct marketing campaign has been shown to lift response rates by 50% and more. "Well executed cross-media campaigns including personalization, direct mail, email, mobile and web, particularly in more sensitive verticals, have shown response rates of 5% to 8% and more," Blais said. "While the technology and production process itself is exciting, it's the increase in response rates and revenue for our customers which keeps us constantly looking for the next marketing edge," he concluded.
About Accuprint
Celebrating 25 successful years in 2012, Accuprint provides traditional offset and digital printing services, large format printing, direct mail, and cross-media direct marketing. Specialized services include the integration of new digital media such as email, web, mobile and social media with traditional print marketing. With two convenient locations, business hours are Monday through Friday, 8:00 am to 5:00 pm. For more information, call 518-456-2431 or visit http://www.accuprint.com.