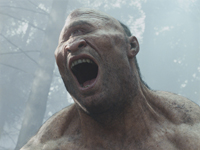 the real challenge is to get the most accurate and truthful reproduction of the actors' motion. By overlaying IKinema's solver with calibrated witness camera footage, we can check how well the solver matches the actors' movement.
Nico Scapel, Framesto
Guilford, UK (PRWEB) April 05, 2012
Leading VFX house, Framestore in London took full advantage of IKinema Action to produce accurate and realistic animation for complex visual effects sequences, in recently released Wrath of the Titans. With newfound flexibility and armed with a strengthened and dynamic pipeline, Framestore are set to further tread new ground with Actions' superior solver and animation toolset.
Movement and performance for three extremely different Cyclops characters was closely researched before the mocap shoot. Motion capture is renowned for taking on a 'mo-capped' feel and detail can be lost during any stage of the data's lifecycle. Framestore found the solver proved incredibly accurate for matching the solver to actors' motion and performance. Actions' unique retargeting capability of mocap data transferal to creatures of varying scales, helped towards the streamlining process. Nico Scapel, Head of Rigging at Framestore explains "the real challenge is to get the most accurate and truthful reproduction of the actors' motion. By overlaying IKinema's solver with calibrated witness camera footage, we can check how well the solver matches the actors' movement."
The software allows developers earlier creative control, and work 'under the skin' of assets to freely fine-tune and fix a models behavior, compared to traditional rigid methods. Scapel, "The key to great mocap is how you give it to animation. Many studios have a mocap department which has a large motion editing team – they cannot do technical animation – and they fiddle with the mocap to make it work in the shots and then it goes to Animation, who are often less than thrilled with what they get. We wanted to give as close as possible to the raw performance to the animators and to let them work it up from there." The team is keen to apply Actions' diverse rigging capabilities and StretchIK feature to their pipeline on further productions.
Alexandre Pechev, CEO of IKinema, "We're really pleased to lend a hand in Framestore's animation processes. We've developed a close relationship with the team at Framestore and we'll be there to support them. This is a great example where with the clients input, we are able to bring new ideas and technologies to the industry".
IKinema Technology
IKinema technology enables users to create and retarget data directly inside Maya, in real-time and for a fraction of the cost of alternative solutions. IKinema converts virtually any skeleton model to a full feature rig while generating fluid and life-like full-body animation for a wide range of characters. Retargeting can also be executed from other models, for rapid customizations of existing assets, or directly from motion capture data such as position markers and joint data. Additional features include StretchIK for real-time marker solving with spine and neck stretch and bone manipulation, real-time links to Vicon and Xsens motion capture systems for real-time streaming, retargeting and recording of data, as well as automatic balance and center of mass control for rapid animation. For more information and a technology video, please visit: http://www.ikinema.com/Maya.html
About Framestore
Framestore has more than 20 years of experience in digital film and video technology, with offices in London, New York and Reykjavik. It has won and received nominations for dozens of international accolades for work on major feature film productions. In 2008, Framestore won a BAFTA and an Academy Award for best visual effects in recognition for the polar bears and environments they created for "The Golden Compass." In 2009, it was nominated for the same awards for work on "The Dark Knight." Framestore was also the only UK facility awarded shots on James Cameron's "Avatar," a film that went on to win the 2010 Academy Award for best visual effects. In 2011, Framestore was nominated for a best visual effects Oscar again, for work completed on "Harry Potter and the Deathly Hallows, Part 1 and in 2012 Framestore was nominated for a BAFTA for work on "War Horse."
Current Film projects include: "Gravity" and "47 Ronin".
About IKinema
Based in the UK, IKinema™ uses patent-pending technology for fast full-body solving and animation. With customers ranging from Framestore's London Studio to Twentieth Century Fox's pre-visualization department, IKinema's technology enables animators to rig characters and stream, record and retarget motion capture data in a fraction of the time and cost of alternative solutions. Available as game middleware, standalone software or an online solution, IKinema's technology is poised to radically simplify the motion capture workflows for professional production studios and bring real-time motion editing within the reach of home users.
######
© Copyright 2012 IKinema is a registered trademark of IKinema LTD., in the UK and/or other countries. All products or brand names mentioned are trademarks or registered trademarks of their respective holders.
Reader contact:
Siobhán Hofma
shofma(at)ikinema(dot)com
IKinema LTD
40 Occam Road
STC
Guildford GU2 7YG
United Kingdom
+44 20 7193 9839
Visit IKinema on Facebook and Twitter
To receive IKinema Newsletter register here
IKinema.com
Framestore press release