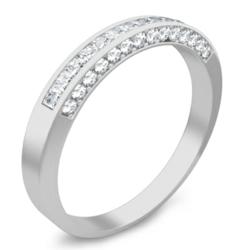 JewelOcean.com believes that true love isn't just for those rich enough to afford a several thousand dollar wedding band
Cockeysville, MD (PRWEB) April 05, 2012
With wedding season coming up, Jewelocean.com has made a strategic move to release a collection of new wedding bands, perfect for the season. The wedding bands for women are remarkably affordable, with 14k comfort fit bands starting at a mere 189.99, these diamond wedding bands will leave your wallet full for the more pressing things you have to worry about this wedding season. Jewelocean.com also stands behind the notion that "affordable" doesn't have to mean "cheap", with their own seasoned jewelers and a lifetime warranty, customers are guaranteed only the most quality wedding bands made of solid gold and with real diamonds.
Jewelocean.com believes that true love isn't just for those rich enough to afford a several thousand dollar wedding ring, especially in this harsh economic climate. The tradition of a wedding band has been around hundreds of years and a hiccup in the economy shouldn't stop this long standing custom. Although the traditions haven't changed much, the rings have; what started off as a plain gold band made by the local blacksmith is now a blossoming array of different styles and designs. Jewel ocean has over 20 different wedding bands to choose from in the collection; anything from a simple engraved gold band to a 3 carat total diamond masterpiece.
Although people all have their own taste when it comes to rings and comparing different styles of rings is like comparing apples to oranges. A definite style front-runner in the new collection is a 1 Carat Diamond Eternity Wedding Band for under 700 dollars, with no tax and free shipping. This wedding band features beautiful round cut stones around the whole circumference of the ring and solid 14k white gold to match, and as always, the ring size of any of these wedding bands can be customized to fit your needs
JewelOcean.com is a leading online jewelry retailer with countless positive reviews and ratings, specializing in retailing diamond engagement rings at affordable and cheap prices. All purchases on the website come with guarantee certificate, with refund policy and lifetime warranty options. Customers interested in looking at the three stone engagement rings should visit JewelOcean.com.