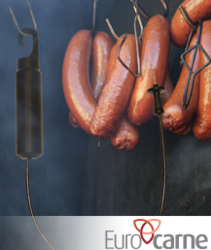 Contoocook, NH (PRWEB) April 04, 2012
MadgeTech, Inc. will be exhibiting at the Eurocarne exhibition from May 24th through the 27th in Verona, Italy. The show is one of Europe's largest gatherings for the meat industry. MadgeTech will be highlighting the RFOT, HiTemp140 and EggTemp data loggers which are designed and built for use in the cooking, shipping and storing of food products.
The RFOT is a splashproof, wireless meat temperature data logger, with a rugged flexible piercing probe. The RFOT measures, records and wirelessly transmits data for real-time monitoring. It features wireless two way communication, allowing the device to be started, stopped and downloaded remotely. If the data received is out of a safe range, an e-mail, text message or screen alarm can be configured to send, so that immediate corrective action can be taken.
MadgeTech's HiTemp140 is a food grade stainless steel data logger that can be placed in and measure temperatures up to 140°C. This standalone device is submersible, allowing it to be cleaned and sanitized easily. The HiTemp140 is available in several probe lengths, including rigid 1", 2", 5.25" and 7" models, and is also offered in a 24" flexible probe version. The HiTemp140 can be placed directly in an oven, making it ideal for use in monitoring and recording the entire cooking and cooling processes.
The EggTemp is an egg temperature data logger that thermally responds to temperatures the same way a real egg does. The device is ideal for use in monitoring and recording egg conditions during shipping, storage, pasteurization and incubation. The EggTemp has an HDPE food grade plastic enclosure, and is completely submersible. The device can measure and record up to 60°C and is equipped with a user replaceable battery that typically lasts up to 1 year.
Visit MadgeTech's booth, located in Hall 2, stand F4, at Eurocarne to receive literature and demonstrations of these featured products, as well as our full line of data loggers for the meat and food industries. We hope to see you there!