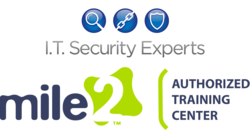 "Having ITSE as our main Instructor Led Training Center in the UK is a real bonus for us" says Ray Friedman, CEO of Mile2 "ITSE eat, sleep and drink security
Whiteley, Hampshire (PRWEB UK) 5 April 2012
Mile2 was largely responsible for the early adoption and success of EC-Council's Certified Ethical Hacker Course (CEH) within the USA and several other countries. At the time, Mile2 was the world's largest provider of Penetration Testing training and initially chose the basic CEH training course as our flagship for Penetration Testing training events. For a long time, Mile2 delivered more CEH classes within the USA than any other training provider and possibly globally.
Eventually Mile2 chose to supersede the CEH with a series of classes with a focus on "Professional Penetration Testing" rather than simply teaching "Hacking Techniques". The result was the release of their CPTE & CPTC certifications.
ITSE, Mile2 and many of our graduates (experienced with both CEH and Mile2 products), believe and strongly recommend to future students that the Mile2 classes are now the best courses available globally.
"Having ITSE as our main Instructor Led Training Center in the UK is a real bonus for us" says Ray Friedman, CEO of Mile2 "ITSE eat, sleep and drink security. They practice what they preach, they perform penetration tests, social engineering and web application attacks all day every day and that's why we have appointed them ATC status to provide our training in the UK"
"We provide security testing services in a number of different environments and have been doing so for some years now "said David Martin-Woodgate, Head of Training & Service Delivery for ITSE. "When we reviewed the training that Mile2 offered, it was simply more in depth. The lab environments are built based on real world situations so the students always take something back to their existing employers"
"For me, it's important that students are able to draw on our experience "added Simon Earl, Director of Security Services for ITSE. " we've been testing networks, people and web applications for many years now, so in conjunction with Mile2, we will be developing the next generation of IT Security Professionals for years to come "
More information can be found on the courses at https://www.it-security-experts.co.uk/training.html and http://www.mile2.com
About ITSE
ITSE focus on one thing…security. We provide the security solutions and services for some of the most well-known brands and FTSE 500 companies around today. Our in depth product knowledge, industry experience and partner accreditation's are testament to our ability to deliver our client's services and solutions on time and within budget.
Email info(at)itse(dot)co(dot)uk
Web http://www.it-security-experts.co.uk
Phone 0845 519 7341