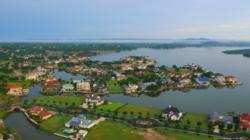 These $99.00 homesites in Horseshoe Bay are an incredible opportunity.
Austin, TX (PRWEB) April 06, 2012
$99.00 homesites hit the auction block at Horseshoe Bay auction Saturday, April 14th.
By order of a secured lender Higgenbotham Auctioneers International (HAI) announced today they will offer at auction 298 lots in the all-inclusive highly desirable Horseshoe Bay community. Of the 298 total lots 54 HSB South will be offered with a starting bid of only $99.00, 236 lots in the highly popular HSB West will start at only $950 and 8 of the highest valued lots start at only $1,999.
These lots will sell to the highest bidders subject to the published starting bid! There is no limit on how many lots a buyer may buy at this price, high bidders can buy one, several or all!
The auction will be held at 11AM, Saturday, April 14 at La Quinta Inn & Suites Marble Falls, 501 Highway 2147 West in Marble Falls, TX
Located in the picturesque Texas Hill Country, Horseshoe Bay is situated on the constant-level Lake Lyndon B. Johnson, known locally as Lake LBJ. The Horseshoe Bay homesites are in close proximity to the shopping, cultural and entertainment cities of Austin and San Antonio.
Horseshoe Bay features many amenities, such as a local airport within the community and three 18-hole Championship Golf Courses. In addition, the Horseshoe Bay Resort provides further services such as the Bayside Fitness Center, tennis courts, four pools and water sports facilities.
Previews will be held on Friday April 6, 2 PM to 7 PM, Saturday April 7, 11 AM to 4 PM as well as Friday April 13, 1 PM to 5 PM. The preview site is located at La Quinta Inn and Suites in Marble Falls. Internet bidding is available; pre-registration is required for Internet bidding, visit HSBAuction.com for details and registration.
For complete details call Earl Williams at 800-257-4161 or visit http://www.HSBAuction.com.
Property not available to persons residing in states where the sale is prohibited unless the property has been registered with the proper regulatory authority in the person's state of residence. All residents of the state of Texas are approved to bid and purchase.
James Lee Owen, Jr., TX Lic# BR0395965 AU13296; 10% Buyer's Premium.
About Higgenbotham Auctioneers International
Higgenbotham Auctioneers is a full service auction firm specializing in the sale of real estate and personal property. Based in Lakeland, Florida, the firm is currently celebrating 50 years in the auction industry and has conducted auctions in 49 states and several foreign countries. Higgenbotham's clients include Wal-Mart Realty, Alcoa, 84 Lumber and numerous privately held companies and individuals.