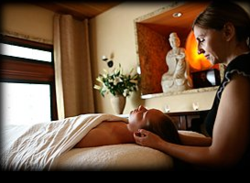 San Francisco, CA (PRWEB) April 06, 2012
During the month of April Watercourse Way Bathhouse and Spa, a San Francisco day spa, is offering great deals on massages as well as discounts on selected products and services to kick off the spring season.
You can get a great deal on a Hot Stone massage ritual with warming basalt stones which deeply relaxes muscles to the core.
They are also offering a 15% off selected incense and teas as well as hot tub specials. You can receive a half hour of free hot tub time at 8:20am every morning that you book a 9:00am massage.
Watercourse Way Bathhouse Spa opened in the San Francisco Bay Area in 1980; inspired by the natural hot springs of Tassajara, a tranquil Zen retreat in Carmel Valley. This luxurious day spa has been serving the area for more than 25 years offering quality service and attention to detail in a serene and exquisite setting.
For more information please call (650) 462-2000 or visit http://www.watercourseway.com