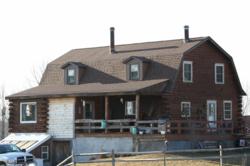 We believe that the multi-property event is one of the best ways to bring properties to the public
Kansas City, Mo. (PRWEB) April 05, 2012
Buyers have the opportunity of a lifetime to purchase a farmette and commercial property in Bradford and Tioga counties, Penn. United Country – Jelliff Auction Group, LLC, of Wellsboro, Penn., in association with United Country – Tom Mullen & Associates of Sayre, Penn., will sell a variety of properties to the highest bidder during an multi-property auction event on Saturday, May 5.
"We believe that the multi-property event is one of the best ways to bring properties to the public," said Randy Jelliff, auctioneer for United Country – Jelliff Auction Group, LLC. "This format allows qualified buyers the opportunity to see a variety of available homes and income properties and determine their current fair market values through the bidding process."
This event will offer two parcels for sale. Tract one features the log home and a horse barn on roughly 45 secluded acres in Bradford County, Penn., all of which is in two Marcellus Shale gas production units and is steadily paying substantial royalties. This small farm is in a private setting set back from the road. The land is a good mix of pasture and woods. The custom log home has a full basement, an attached solar greenhouse, four bedrooms, one and a half baths, and a wood and coal burning kitchen range. The wood frame barn has a hayloft and two horse stalls. There is also a detached two-car garage on this parcel.
Tract two consists of 8.5 acres resting along Rte. 549 in the village of Daggett in Tioga County. A 4,500-square-foot commercial building is currently used as an auto service garage. The property has a trout stream and a pond. A portion of this parcel is in a gas well production unit that has not gone online as of yet.
The May 5 auction will be held at noon at the Troy Fire Dept. Conference Hall located at 88 Fire House Drive in Troy. Inspections will be available Saturday, April 21 and Sunday, April 22, as well as Saturday, April 28 and Sunday, April 29 from 10 a.m. to 2 p.m. The property may also be previewed the day before the auction on May 4 from noon to 4 p.m.
Property details, photos and terms and conditions can be found at http://www.jelliffauctiongroup.com. United Country – Jelliff Auction Group, LLC, can be reached at 570-835-4214, and United Country – Tom Mullen & Associates can be contacted at 607-565-8444.
About United Country
United Country Real Estate is the largest fully integrated network of conventional and auction real estate professionals in the United States. The company has been an innovator in real estate marketing since 1925. United Country supports nearly 550 offices across the U.S., Costa Rica, Panama and resort areas of Mexico, with a unique, comprehensive marketing program that includes one of the largest portfolios of property marketing websites (more than 3,000 separate sites and traffic of approximately 3 million visitors per month), multiple United Country real estate catalogs with national distribution , an extensive buyer database and national advertising of local properties that reaches more than 90 million homes per week. United Country has recently been recognized by AllBusiness.com, The Land Report, Entrepreneur and The Wall Street Journal as one of the top U.S. real estate companies.