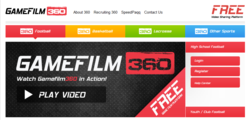 Easily store, share, view, break down and edit game films.
Milwaukee, Wisconsin (PRWEB) April 05, 2012
GameFilm360.com, a leading online sports video management tool for coaches, parents and athletes, is announcing a free version of its powerful analysis tool. The software enables users to easily store, share, view, break down and edit game videos while providing instant secure access to the rest of the team. It provides a fast, free and efficient way for coaches, college recruiters, and athletes to view and exchange their games on demand whenever and wherever they have Internet access.
As a coach, founder David Ricci understood the problem first hand "There were teams in our league which could afford software and there were teams which were facing budget cut backs who couldn't afford expensive software" Not only did this create difficulty for the teams exchanging videos it created unequal opportunities for athletes. "We wanted to create a powerful analytics system where all teams and athletes had access to an even playing field" said Ricci.
GameFilm360, which launched in 2010 has quickly grown into one of the leading platforms for online sports video analysis. It makes coaches lives easier and provides athletes better opportunities for success. In the past, it was not unheard of for coaches to be exchanging game tapes burned on DVDs at truck stops hundreds of miles from their school. With GameFilm360, coaches and athletic departments are able to seamlessly and privately exchange videos with other teams online. Also, coaches needed to rent out class room time and waste practice hours watching game film. With GameFilm360 coaches can assign games for players to watch at home.
Not only does the software make coaching easier, it helps create better players. Quite simply, players who watch themselves on film, improve their game. With busy coaches, players rarely have private opportunities to analyze themselves on tape. GameFilm360 players have unlimited time to watch themselves. Players also benefit by having access to their game films when they begin the recruitment process for college athletics. Through a close relationship with NCSA, players and parents are able to better navigate the college scholarship process. Athletes from football, basketball, baseball, soccer, lacrosse, and volleyball have all used this video technology to advance their careers.
GameFilm360 has been growing rapidly and recently added a president, Dan Voell. Prior to joining GameFilm360, Dan developed software tools for a wide range of organizations from fortune 50 clients to national musical acts. Dan holds a bachelor's degree from the University of Wisconsin-Madison and an MBA from Marquette University. He is passionate about high school sports and he is a sports stats geek.