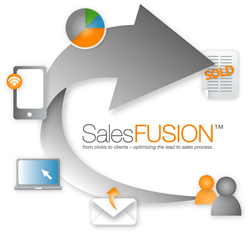 Atlanta, GA (PRWEB) April 06, 2012
SalesFUSION™, the maker of SalesFUSION 360, an integrated sales and marketing demand generation platform, announced that they will be showcasing their integrated marketing automation solution for Sugar CRM at the CRM vendor's annual conference and exposition.
SalesFUSION is a provider of enterprise marketing automation software designed for B2B companies. The solution, SalesFUSION360, is designed to support the needs of B2B marketers by including core functionality for email marketing, nurture marketing, social marketing and web optimization. The solution has been specifically designed to integrate marketing & sales by connecting the marketing technology platform with a company's installed CRM. This year, SalesFUSION announced the general availability of its pre-packaged Sugar CRM integration.
Kevin Miller, EVP Marketing and Sales for SalesFUSION, remarked "We're very excited to have a presence at SugarCon this year. SalesFUSION has targeted Sugar CRM as a high-growth player in the CRM space. As such, it is our goal to offer a valuable marketing automation integration that integrates key processes such as lead scoring, lead routing and marketing intelligence in Sugar. As a company, SalesFUSION leads the industry in providing pre-packaged integration for marketing automation to CRM. Sugar was a logical extension of our CRM strategy and we are already seeing increased interest in the integration from existing partners and end-users of Sugar CRM"
SalesFUSION currently adds key functionality from its Marketing Automation platform inside of Sugar CRM including email marketing and web visitor tracking. The new modules bring more of a lead management process into Sugar. Miller stated, "We are always looking for ways to improve upon CRM functionality as it pertains to lead generation and marketing. We have many years of experience helping companies improve their lead to revenue processes. Sugar CRM users will benefit greatly from our integration which brings all marketing touch points to the CRM users fingertips."
SalesFUSION will be showcasing a live demonstration of its marketing to sales integration at SugarCon and can be found at Kiosk K2.
About SalesFUSION
SalesFUSION 360 provides software that accelerates revenue by connecting sales and marketing with prospects at the moment they are ready to buy. This is made possible through the SalesFusion 360™ suite, which complements Sales Force Automation applications by adding an on-demand enterprise lead management service. SalesFUSION 360 increases lead quantity, lead quality, and revenue conversion rates by integrating and automating the lead management process. For more information, visit http://www.salesfusion.com.