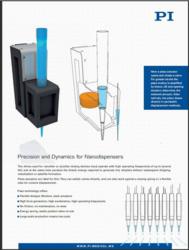 Piezo transducers excel when it comes to speed, precision and small dimensions. Piezo ceramics are sterile and very energy efficient.
Auburn, MA (PRWEB) April 06, 2012
Piezo specialist PI (Physik Instrumente) has published a new brochure on medical applications of piezo ceramic actuators, transducers and motion components.
Life-sciences and medical design equipment disciplines have multi-faceted requirements for motion control, spanning a spectrum from high-precision positioning systems to reliable, low-cost, and compact drive components with ultra-low power consumption. Since progress goes hand in hand with continuous miniaturization and demand for higher speed and throughput, piezoceramic drives can satisfy many of these requirements. Originally developed for nanometer-precision motion, piezoelectric motion principles are proving highly adaptable to new configurations and modalities. Recently-developed systems have overcome the former limitations familiar from classical piezo mechanisms.
The "Piezo Solutions for Medical Engineering" entitled PDF document is available for download at:
http://www.pi-medical.net/pdf/Piezo_for_Medical_Applications_Small_Motors_and_Transducers.pdf
Different from traditional motors
Piezo devices have several advantages over classical motion control components:

Sterile / high bake-out temperatures
No lubricants required
Non-magnetic principle (MRI compatible)
Vacuum compatible
Smaller, higher force and faster response
Direct linear motion w/o conversion losses
For medical and biotechnology applications, piezoelectric motors can overcome problems of traditional motors since they neither create electromagnetic interference, nor are they influenced by it, eliminating the need for magnetic shielding. This feature is particularly important for motors used within strong magnetic fields, such as those seen in MRI equipment.
Application Examples

Piezo motors for uniform force while pipetting
Piezo transducers for generation of homogenous aerosols
Piezo scanners for precision in visualization and microscopy

Piezo transducers for reliable flow measurement and bubble detection
Piezo disks for compact and high performance micro-pumps

Piezo flexure actuators for precision dynamic nano-dispensers
Non-magnetic piezo motors for mri
Piezo ceramics for pumps, nebulizers and atomizers
More Info: http://www.pi-medical.net
Keywords: Medical Engineering, Piezo Transducer, Piezo Motor, Medical Motor, Piezo Medical Devices