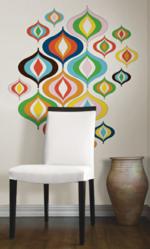 (PRWEB) April 10, 2012
RANDOLPH, Mass. – WallPops, the premier line of peel-and-stick wall art from wallcovering leader Brewster Home Fashions, has teamed up with red hot decorating trendsetter Jonathan Adler for its newest collection, just launched in January. WallPops has always been distinguished in the marketplace with its fun, on-trend and coordinating wall art. In collaboration with Adler's design style that brings style, craft, joy and a general feeling of grooviness to the home, the new WallPops by Jonathan Adler line completely captures the best of what Adler and WallPops have to offer.
At a price point all can afford, Jonathan Adler for WallPops includes an infusion of signature Adler motifs like silver and gold Mylar, flocking and silver nailhead embellishments in the various products of the line, which include the popular WallPops mix-and-match Dots, Blox and Stripes, Wall Art Kits, and new Dry Erase items including Enamel Frame Dry Erase Boards, Menagerie Dry Erase Weekly Dots and Zodiac Dry Erase Message Boards. Designs in each category include:
Mix-and-Match Dots, Blox, Stripes
Create your own festive and colorful wall décor layouts with coordinating Dots, Blox and Stripes. Dots and Blox are 13-inches wide and Stripes come in a 12-inch long strip in each pack. Easily add groovy stripes, geometric-printed dots and more with these designs:
Aztec Diamond: Splash a bit of sunshine into any room with this yellow-and-grey design inspired by Aztec textiles. For a touch of sparkle, designs are completed with Mylar metallic accents.
Carnaby: Named for the famous boutique shopping street in London's Soho, this blue, silver and teal geometric design provides a fresh look with playful pops of silver Mylar accents.
Elephant Paisley: A teal-and-mint-green Bohemian print with gold Mylar details adds a fresh look to any room. Dots bear elephants, a symbol for optimism and luck.
Geo Circles: Adler says, "Orange is the poppiest color." Go for an uplifting design with this citrus orange-and-pink wave and circular pattern graced by golden Mylar. Dots come in 70's-inspired sunbursts.
Hollywood: Get a glamorous look with this mod, geometric floral pattern in blue, teal, lemon and chartreuse, complemented by silver studs and Mylar embellishments. Stripes come in a colorful, die-cut floral pattern.
Nixon: This design captures the classic black-and-white look with a punch. Dots feature a mid-century brocade design and Stripes are a series of sleek black Greek keys.
Santorini: A dimensional grey, white and gold design that adds a shimmering brilliance to walls for utter elegance.
Wall Art Kits
Get an overall Adler look in minutes with these new Wall Art Kits that come on two 17.25 by 39-inch sheets.
Bargello Wave Kit: Adler's signature waves hit the walls with this 18-piece set of separate wave shapes in a rainbow of colors to arrange to one's liking.
Charlie Kit: This swirling black and white trompe l'oeil design is a swanky addition to any room. Also looks great applied over a colorful wall, especially one that is red or green.
Enamel Frames Kit: Surround yourself with inspiring pictures and artwork with this colorful, wavy frame collection with orange, teal, green, red, white and black frames.
Flower Garland: This fun floral motif offers a playful pop of color with sparkling Mylar.
Geo Scales Kit: For a playful addition, these nine wavy red-and-orange pieces can be arranged to fit all together or spaced apart on the wall to create limitless designs.
Hollywood: For a floral motif that's not too flowery this mod and fun geometric design features silver studs and silver Mylar accents for just the right amount of bling.
Lanterns: Have a party everyday with these six colorfully patterned lanterns, each with its own pattern and appointed with studded embellishments.
Love Kit: Inspired by Adler's popular needlepoint Victorian Love pillow, this black-and-white flocked design with "Love" written in capital letters is surrounded by a floral-and-heart design frame that looks and feels fabulous.
Mylar Nixon Kit: Accessorize your walls with Adler's signature silver Greek Keys that bring a dollop of drama to your décor. Set comes with eight 13-inch keys with silver Mylar accents.
Printed Frame Kit Black/White: Surround your favorite photos or art with chic prints with these variously patterned set of black, white and silver frames with silver Mylar accents.
Dry Erase Line
As Adler says, "A room should be 95 percent chic." With that in mind, forget a plain, white dry erase board. Add WallPops by Adler's chic and cheeky line of Dry Erase items. All come with a Dry Erase marker and include:
Enamel Frame Dry Erase Boards: White dry erase boards are framed with curvy, playful frames accented with silver Mylar embellishments. Choose from black, green, orange, red, teal and white. Comes in two 17.25 by 39-inch sheets.
Menagerie Dry Erase Weekly Dots: Circular Dry Erase Dots, one for each day of the week plus one for notes, in happy colors including teal, yellow, purple and orange with white playful animals on each including a giraffe, elephant, whale, horse, along with others.
Zodiac Dry Erase Message Boards: Say something about who you are with this colorful collection of Zodiac Dry Erase Boards. Designs feature a top, solid color to provide ample room for writing notes and reminders, divided by the astrological sign written in fun fonts, and a festive pattern or design on the bottom of the board. Boards are 13 by 17.75-inches. Designs include:
Aries: Luscious pink with orange stripes
Taurus: Astrological orange, red and yellow
Gemini: Cool grey with a modern orange-and-pink print
Cancer: Electric orange and pleasing pink
Leo: Calm beige and circus-like orange stripes
Virgo: Sassy yellow with pretty flowers
Libra: Yellow with blue, red and teal stars
Scorpio: Teal and lime rejoice in a modern zigzag pattern
Sagittarius: Pink with orange and pink arrows
Capricorn: Blue with green and yellow leaf-like stripes
Aquarius: Light blue with waves of teal
Pisces: Violet with a sea of dark purple and blue and pink fishes
Jonathan Adler for WallPops will be sold through select retailers nationwide and online at http://www.wallpops.com. Become a fan at: http://www.facebook.com/#!/wallpopsdecals and follow them at: http://www.twitter.com/WallPopswallart. View the WallPops blog at http://www.blog.wallpops.com. WallPops by Jonathan Adler Dots, Blox and Stripes and Dry Erase Packs are approximately $15.99 per pack. Wall Art Kits without metallic are approximately $34.99 per pack and Wall Art Kits with metallic are approximately $39.99 per pack.
WallPops by Brewster Home Fashions is the premier line of peel-and-stick wall art on the market today with on-trend design and total coordination possibilities. Headquartered in Randolph, Mass., Brewster Home Fashions is one of the oldest independent, family-owned wallcovering companies in the U.S. that now spans five generations. Since 1954, Brewster Home Fashions has been a prominent manufacturer and distributor of fine wallpapers and home decor products for residential and commercial markets globally. A category leader, the company offers a range of brands and price points that provide more than 10,000 wall and window décor solutions.
# # #
Media can also visit http://www.louhammond.com for latest press releases and images. Follow on Twitter at LouHammondPR or find us on Facebook.
CONTACT:
Kimberly Babcock (kimberlyb@lhammond.com)
Sarah Fletcher (sarahf@lhammond.com)
LOU HAMMOND & ASSOCIATES
212-891-0221/ 0220
http://www.louhammond.com