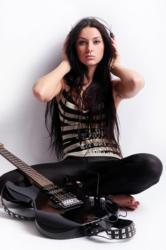 Movies really do have an influence on teen modelling
London, UK 5th April 2012 (PRWEB UK) 5 April 2012
La Mode London is in the midst of movie mayhem. Edward, Jacob and now Katniss, teen models need to put on an Oscar performance.
http://www.lamodelondon.com, the model advice specialists, has been at the forefront of the modelling industry for years, producing expert modelling portfolios for all ages of models. They've certainly seen some highs and lows in the trends of modelling for teenagers. Specialising in commercial photography, the company based in London have a great overview of what really goes on behind the scenes at the cutting edge of high fashion.
'Teenage modelling has always been our most popular type of photo shoot,' said a La Mode's spokesperson. 'But we've never seen such a high demand for teen models by our clients before'.
La Mode put this new surge down to the phenomenon that is the Twilight saga in the past, but casting calls are now being urgently requested for more teen models to take on editorial and advertising modelling jobs, as the Hunger Games hit the big screen in the UK.
'The trend now seems to be for the Katniss look, the feisty heroin in the Hunger Games. She's a fierce and determined character in the book, and at just 16 and so young, she knows what she wants - just like a lot of the teen models we have walking through our doors at La Mode every day.'
Suzanne Collin's trilogy of teen books has sold millions worldwide and it's the hottest film in Hollywood right now. The photography company have seen requests soar for Katniss Everdeen lookalike's, taking over from Twilight's, Bella Swan. Companies are always on the lookout for lookalike models, and many of La Mode's models have their photographs taken at the photographic studio, then go on to try their luck with teen modelling agencies.
According to La Mode, it seems the teen model look has moved away from the pale faced, dark haired, fragile beauty of the Twilight character to a more natural, blue eyed strawberry blonde look of the Hunger Games leading lady.
La Mode say that movies really do have an influence on teen modelling, with wannabe actresses starting out their performing careers in the modelling industry, hoping to get discovered and trying to get their foot in the door of acting. 'It just seems a natural progression.' they say.