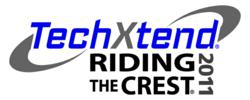 Shrewsbury, NJ (PRWEB) April 04, 2012
TechXtend (formerly Programmer's Paradise®), a leading value-added provider of server and storage virtualization, business intelligence and information management solutions, today announced the winners of its Riding the Crest® awards for 2011. Now in their 16th year, the Riding the Crest awards are presented annually as TechXtend recognizes leading selling products from its exclusive "World View" software ecosystems for Virtualization, Security, Database Infrastructure, Networking, Application Lifecycle Management, and Business Productivity.
"Congratulations to our winning partners in this 16th year of Riding the Crest Awards," said Shawn Giordano, Vice President of Sales for TechXtend. "Their awards are deserved recognition by our TechXtend customers of the value they see in these leading development and infrastructure software solutions."
The overall World View winners were: Microsoft® Visual Studio® for Application Lifecycle Management (ALM); CA ERwin® Data Modeler for Database Infrastructure; VMware vSphere® for Virtualization; Symantec Protection Suite for Security; Quest® Recovery Manager for Active Directory for Network Infrastructure; and Microsoft® Office for Business Productivity.
For the 13th consecutive year, CA Technologies' CA ERwin Data Modeler product was recognized as Overall Database Infrastructure World View winner, as well as for the Design/Modeling category. CA Technologies also picked up a Riding the Crest award for CA ARCserve® Backup for Microsoft Windows for the Network Infrastructure – Business Continuity/Disaster Recovery category.
Speaking to CA ERwin's Riding the Crest Award and recognition, Donna Burbank, Vice President, Product Marketing at CA Technologies, stated, "Developers are under enormous pressure to deliver business value by building and enhancing database solutions that leverage information assets in ways. It is very gratifying to know that they continue to rely on CA ERwin data modeling tools as they explore new possibilities in their development efforts."
Quest Software was a multiple Riding the Crest Award winner. Quest Foglight® Performance Analysis for SQL Server won for Database Infrastructure – Performance Monitoring & Tuning, and Quest Litespeed® Enterprise for SQL Server for the Database Infrastructure – Management & Administration category. Quest ActiveRoles® Server won for Networking Infrastructure – System Management and Quest Scriptlogic Desktop Authority® for Security – Policy Administration & Access Control. Quest's Vizioncore vFoglight® also won in the Virtualization – Performance Monitoring & Management category.
"We're honored to be recognized by TechXtend for delivering value-added solutions across five categories, including Database, Networking, Security, Application Lifecycle Management and Virtualization," said Michael Sotnick, Vice President, Worldwide Channel and Alliances at Quest Software. "It's gratifying to receive this important industry validation of Quest's technology innovation. It's even more rewarding to work with a long-standing partner like TechXtend to solve challenging IT problems and help customers reduce costs, simplify management and expedite time-to-value."
Flexera Software's AdminStudio was a repeat winner in the Application Lifecycle Management – Deploy category. "We are delighted to receive this prestigious award and that customers continue to rank AdminStudio as the leader in Application Readiness," said Maureen Polte, Vice President of Product Management at Flexera Software. "As organizations migrate to Windows 7 and 8, and user-centric models enabled by virtualization and the Cloud, AdminStudio remains the most trusted solution to get them there quickly and efficiently."
Intel Software was a repeat Riding the Crest awards winner for Application Lifecycle Management. Intel's compiler products Intel C++ Composer XE and Intel Visual Fortran Composer XE were winners in the Development: C++ and Development: Fortran categories respectively. Both of these products are available as part of the Intel Parallel Studio XE and Intel Cluster Studio XE developer product suites.
"Intel is pleased to be recognized again by TechXtend for our leading software development solutions," said Herb Hinstorff, Director of Marketing and Sales for Intel's Developer Products Division. "Developers are increasingly turning to Intel's software development tools for application performance on today's multicore CPUs. Easily fitting into existing workflows, developers value the improved productivity and product quality that Intel's tools help them achieve."
Sparx Systems Enterprise Architect was again recognized as winner in the Application Lifecycle Management – Design/Modeling category. "The strong growth in our customer base over the last year is a clear demonstration of the effectiveness and the quality of Enterprise Architect as a team-based modeling environment with enterprise-wide benefits," remarked Ken Harkin, Sparx Systems Business Development Manager. "Sparx Systems is highly committed to its successful modeling tool suite, and it is pleasing to see a leading software reseller validate that commitment by way of this award."
StorageCraft was a repeat Riding the Crest winner, with StorageCraft ShadowProtect topping the Virtualization – Security category. "We're excited to receive this award from Techxtend, particularly in the virtualization space. We strive to provide best-in-class backup and disaster recovery solutions, and we're pleased to know that an increasing number of companies recognize the value of virtualization and are using StorageCraft's technology to meet their needs," said Curt James, Vice President of Marketing and Business Development for StorageCraft Technology Corporation.
A complete list of Riding the Crest winners can be viewed on the TechXtend website at http://www.techxtend.com/ridingthecrest.
About TechXtend
TechXtend (formerly Programmer's Paradise®) is a leading value-added provider of software, systems and solutions for corporations, government organizations, and academic institutions across the United States and Canada. With a solutions focus on cloud computing, storage and data management, business intelligence and information management, and mobile device management, TechXtend helps technology professionals gain optimal return from their investments in software and hardware. With our 30-year Programmer's Paradise history as the leading independent source of developer and database tools, customers continue to rely on TechXtend for in-depth product expertise, unparalleled value and selection, and fast, accurate turnaround. TechXtend is a subsidiary of Wayside Technology Group, Inc., a public company since 1995 (NASDAQ: WSTG). For more information, visit http://www.techxtend.com, or call +1.800.599.4388, or +1.732.389.8950. In Canada, call +1.888.423.2700. Follow TechXtend on social media on Twitter (@TechXtend) and Facebook (TechXtend).
###
TechXtend, Programmer's Paradise and Riding the Crest are registered trademarks of Wayside Technology Group, Inc. All other trademarks are the property of their respective owners.
The statements in this release concerning the Company's future prospects are forward-looking statements that involve certain risks and uncertainties. Such risks and uncertainties include the continued acceptance of the Company's distribution channel by vendors and customers, the timely availability and acceptance of new products, and contribution of key vendor relationships and support programs. The forward-looking statements contained herein are also subject generally to other risks and uncertainties that are described from time to time in our filings with the Securities and Exchange Commission.