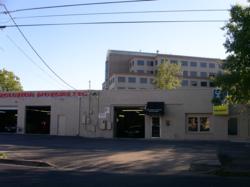 I just had my MCS worked on and was very pleased with my visit. The staff was courteous and helpful. The shuttle service was very convenient and when they made their diagnosis they were open, honest, and prompt. Highly recommended!
Austin, TX (PRWEB) April 05, 2012
Austin auto repair specialist Revolution Motors kicks off spring with a special Central Texans are sure to appreciate: an A/C inspection which includes an evacuate and recharge of R134 Freon and leak test for only $81 (reg. $177).
Revolution Motors is Austin's premier European auto repair specialist, serving the greater Austin area for over 30 years. Revolution Motors is an independent, family-owned and operated repair shop with one location conveniently situated only minutes from downtown Austin. Onsite owners, a father and son team, oversee daily operations ensuring quality repairs and stellar service. In addition to attentive, hands-on owners, Revolution's factory-trained and experienced technicians utilize the latest in diagnostic tools and equipment. This winning combination has led to a prosperous 30 year history serving Austin's community of European car drivers.
Revolution Motors specializes in auto repair for Audi, BMW, MINI, Mercedes Benz, Saab, Volkswagen and Volvo cars. Most warranties and insurance are welcome. In addition, new customers receive special savings of 10% off parts and labor on their first visit. Revolution Motors also provides complimentary shuttle service within Austin-just one of the many services offered by the shop to make auto repair and service more convenient for their customers.
For more information please visit RevolutionMotors.com, email service(at)revolutinmotors(dot)com, or call (512) 453-5050.
Address:
809 Capitol Court
Austin, TX 78756