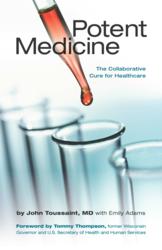 "Dr. John Toussaint is an action-taking revolutionary. As a real leader, not a theorist, he has proven it is possible to vastly improve medical care outcomes while reducing costs."
—Paul H. O'Neill, 72nd U.S. Treasury Secretary and former CEO of Alcoa
Appleton, WI (PRWEB) April 04, 2012
The ThedaCare Center for Healthcare Value is excited to announce the launch of Potent Medicine: The Collaborative Cure for Healthcare, the latest title from award-winning author Dr. John Toussaint.
Potent Medicine, now available at createvalue.org, outlines the essential framework for redesigning America's healthcare system through three elements: transparency of quality and cost data, paying providers for outcomes, and care designed around the patient. Readers can get a sneak peek with an executive summary.
The book includes eye-opening accounts from the physicians and system leaders who stood on the frontlines during the development of Wisconsin's most innovative healthcare organizations, and from the patients they're trying to help. It further examines the importance of conducting similar experiments in every state in the country.
Change is bearing down fast on healthcare in the United States. Potent Medicine shares the insights and tools leaders need to not only anticipate and adapt to that change, but to lead it.
Dr. Toussaint continues the tradition of honest, practical storytelling that he began in his debut, On the Mend, and uses it to explain the deep challenges, stumbling blocks and unexpected triumphs on the road toward a healthcare industry that delivers better quality at much lower cost.
There is no simple or single answer to achieving this future state, but the book offers a path on which we can start. It is a call to action for leaders across the nation to join ongoing experiments, learn from them and adjust current methods.
To supplement the book, the ThedaCare Center for Healthcare Value is developing an online information hub of experiment outcomes. This hub will help build the body of knowledge necessary to prescribe new and better treatments for healthcare.
Potent Medicine

By John Toussaint, MD
184 pages
$30.00 (Hardcover)
To purchase the book, review the executive summary or read testimonials, visit createvalue.org.
About the Author
Dr. John Toussaint is the founder and CEO of the ThedaCare Center for Healthcare Value, the CEO Emeritus of ThedaCare and the author of On the Mend.
ThedaCare Center for Healthcare Value
The ThedaCare Center for Healthcare Value brings together the most thoughtful leaders in business and healthcare to drive value-based healthcare. Working collaboratively with providers and purchasers, the Center identifies the best examples of revolutionary thinking in healthcare delivery, payment and transparency. The end result is greater value for patients and purchasers. http://www.createvalue.org.
# # #