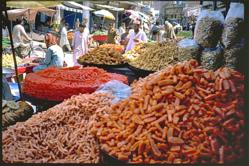 Travelers interests' are spurring a revival of ancient architecture, art and customs.
Ann Arbor, MI (PRWEB) April 06, 2012
Time travel may be impossible but, increasingly, modern travelers are conjuring on-the-spot visions of Marco Polo's caravans crossing the central Asian steppes and marauding hordes attacking Kashgar's market fortifications. JOURNEYS International, a specialty tour operator based in Ann Arbor, Michigan, has been offering travel on the ancient vestiges of Silk Route trade paths for more than two decades. Tour operators, such as JOURNEYS, report a renewed interest in traveling the Silk Route.
Tourists tracing the ancient Silk Route across Asia reject the conventional sightseeing of crowded urban centers in China, India and Pakistan for the less-traveled, often obscure threads of the earliest intercontinental commerce. In a sense, the Silk Route was a pre-Medieval Asian interstate highway network linking South Asia and the Far East with Europe. Although Tatar hordes are not a concern for modern travelers, while re-tracing the most ancient of beaten paths, travelers find few tourists, but many opportunities for vivid, scenic photography, cross-cultural exchange and visions of history reborn.
Historically, the Silk Route stretched from China through the Middle East all the way to Europe. Today, most travelers are advised to focus their trip on the eastern portion of the Silk Route. "Just as in ancient times, the preferred route keeps changing based upon hostilities, banditry and diplomatic warnings. These days not many tourists choose to follow the routes through northern Pakistan or Afghanistan, but the routes in western China connecting Beijing with modern day Xian, Hotan, Dunhuang, Urumqi and Kashgar are safe, seldom-visited and inspiring, " said JOURNEYS Director Will Weber. "Modern inhabitants of these ancient sites are rediscovering their appreciation for contemporary travelers and, in turn, travelers' interests are spurring a revival of ancient architecture, art and customs."
"Two thousand years after these routes were first opened by Chinese Han Dynasty emperors through outposts like Samarkand, Bukhara, Kashgar and Karakoram, a new kind of traveler equipped with cameras and iPads instead of swords and steeds is fascinated by the ruins and mystique of the long vanished caravans," Weber said. Weber has led groups of travelers over portions of the Silk Route in China, Mongolia, India, Pakistan, Uzbekistan, Kyrghistan and Tajikistan.
JOURNEYS International is offering a September 2012 version of "Tracing the Ancient Silk Route."
On this 14-day group trip through northern and western China, participants sleep in three star  and four star hotels rather than camel hair tents. Instead of a camel driver, the trip leadership team includes the JOURNEYS International Asia program director and local English-speaking guides who are experts on culture, nature, and history. Local experts provide the interpretation and the narrative to bring the ghosts of Kublai Khan and Marco Polo back to life.  Space is still available on this trip. Private, customized, guided Silk Route itineraries are also available.
JOURNEYS International also offers summer trips in the Ladakh area of northwest India, Tibet and Mongolia which include the routes, ruins and lore of the fabled Silk Route network. Most travelers visit these areas between April and October when the weather is most favorable.
About JOURNEYS International
JOURNEYS INTERNATIONAL is the longest standing family-owned global ecotourism company in the US. Journeys offers full-service exotic, guided cross-cultural explorations, nature safaris, treks and eco-tours in remote corners of Asia, Africa, the Americas and the Pacific. Founded by current directors Will and Joan Weber in 1978, JOURNEYS boasts an extraordinary record of client and staff satisfaction and several industry awards.