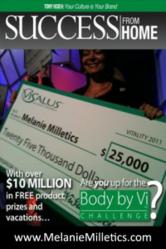 I'm THRILLED to earn a multiple six figure income from home, while living a life by design with my wife and kids! All thanks to the Body By Vi Challenge. - Allen Milletics
Tampabay, FL (PRWEB) April 05, 2012
Allen and Melanie Milletics are "Body by Vi Challenge Pioneers". They started their Home based business with ViSalus Sciences in June 2009, just as ViSalus was about to make a pivotal marketing shift that would make ViSalus Sciences the fastest growing home based business in North America. In July 2009, ViSalus launched the Body By Vi Challenge – and Allen and Melanie never looked back!
In two and a half years ViSalus has rocked the home-based business industry with unsurpassed growth. Their growth has not gone unnoticed by the likes of the DSA, Success from Home Magazine and the Wall Street Journal. Co-Founders Ryan Blair, Blake Mallen and Nick Sarnicola knew that combining passion for people with the principles of health and entrepreneurship was a formula for success. It is how they have helped everyday people become recession proof in an unprecedented time. Documentation beats conversation every day – and the growth numbers published by ViSalus show that it is undeniably the fastest growing home based business in North America.
What is ViSalus? They say it best on their corporate site, "ViSalus™ is a community dedicated to making a positive impact on the life, health and prosperity of everyone we can reach." It's not just a business but a community of people working together to get the best out of life, health and prosperity. It's this community approach teamed with effective products and industry leading marketing tools that has created an infectious buzz on and offline with the Body by Vi 90 Day Challenge.
So where is the proof that this formula works? What exactly has ViSalus Sciences and the Body by Vi 90 Day Challenge accomplished in the past two and a half years? What success have Allen and Melanie Milletics found here that they could not find elsewhere?
Allen and Melanie founded the Dream Team – promoters of the Body By Vi Challenge committed to the Mission of ViSalus to Promote Life, Health And Prosperity. Their leadership of the Dream Team has helped many earn a six-figure residual income while helping people to live healthier, more vital lives by undertaking the Body By Vi Challenge.
Here are just some of their noteworthy accomplishments over the past two and a half years:

July 2009, ViSalus launches their 90 Day Challenge with the help of Allen and Melanie Milletics.
The company's success story has been cataloged in Success from Home magazine numerous times as well as the Wall Street Journal.
Melanie founded the ViSalus Dream Team in 2009.
The ViSalus Dream Team has had two Body By Vi 90 Day Challenge winners, 5 runner ups, and 7 semi finalists in the Body By Vi Challenge – contenders for a share in $25,000,000 in prizes!
Skip & Cindy Taylor were the Body by Vi Champions in 2010. They did not work out their first 45 days and still lost a combined 71 pounds.
Tom and Jan Hibbard are in their 60's and lost a combined 112 pounds in 90 days.
Dream Team members Sherry Prince, Alecia Barnes, Richard Flowers, Lynda Kosiur and Damion Millis have been Body by Vi Challenge runner ups.
The company received the Turn Around award at the DSN Global 100 in Dallas, Texas April 2011.
The Vi-Net and Mobile applications keep them the industry leader for marketing and management tools.
The Body by Vi 90 Challenge has become the #1 health challenge in North America with 5000+ joining the Body by Vi 90 Challenge a day.
ViSalus Sciences has been voted the #1 home-based business in North America with 30+ BMW qualified promoters of the Challenge a day.
They have endorsements from Hulk Hogan, Percy Miller, Roy Jones Jr, Jenny Lynn, Mike Ruiz and more.
Melanie Milletics hit Ambassador in June 2011, which landed her a $25,000 bonus paid out over the year and has been driving a BMW paid for by ViSalus since October 2009.
Allen and Melanie helped Body by Vi Challenge couples winner Skip and Cindy Taylor get to Ambassador which has successfully impacted thousands of lives in the process. Skip and Cindy now have 3 more Ambassadors on their team!
ViSalus now offers over $25 million in free products, prizes and vacations.
ViSalus released The Challenge Magazine in January 2012, with members of the Dream Team featured throughout!
ViSalus had 579% growth in 2012 and ranks in the top 10 Direct Sales companies in the world!
Allen Milletics hit Ambassador in March 2012, which landed him a $25,000 bonus - the second Ambassador bonus in their family in less than a year!
ViSalus, Allen and Melanie Milletics and The Dream Team are clearly on the move and have figured out how to have success in a recession. They have figured out how to create a booming community centered around the Body By vi 90 Day Challenge to help individuals and families thrive.
"The Body By Vi Challenge is a proven business model, its just waiting for entrepreneurs to step up and launch their marketplace." - Allen Milletics, ViSalus Ambassador
To learn more about ViSalus, Allen and Melanie Milletics, The Dream Team & the Body by Vi 90 Day Challenge; you can pick up the August 2012 issue of Success from Home Magazine at Barnes & Noble, Staples, B. Dalton, Hastings or Books-A-Million or visit http://www.My-Body-By-Vi.com online today.