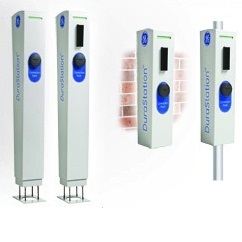 "These EV chargers from General Electric combine a great product with the reputation of a great company. These chargers have been installed all over and fit naturally into the goals that One Stop Green has," says Liz Newman.
Houston, TX (PRWEB) April 04, 2012
One Stop Green, LLC is proud to announce a new partnership with General Electric to offer Electric Vehicle charging stations and integrated carports. One Stop Green will offer wall mounted WattStations, some of the most affordable personal EV chargers on the market, as well as the DuraStation, a hardier, yet sleek EV charger made for commercial use.
The WattStation is designed to mount on the wall of any home and charges a vehicle in 4-8 hours. They have a sleek, modern design and come in several colors allowing for customer personalization. The WattStation can be hardwired directly to the home or be plugged in, allowing the owner to take the EV charger when they move out of the home.
The DuraStation comes in several different mounting options, including wall mount, pole mount, and a standalone pedestal. Since the DuraStation is made for more commercial applications, each has the option of having an RFID reader so that only authorized users may charge their vehicle. Each DuraStation can also support two charging outlets, giving two vehicles the ability to charge from one pedestal.
One Stop Green already promotes solutions within the solar, wind, water, lighting, green building and green living sectors of the green market and now with the addition of electric vehicle charging stations will support the green commercial and personal transportation infrastructure. With rising oil prices, consumers are increasingly looking towards alternative, more efficient methods of transportation without sacrificing the comfort and ease that comes along with owning your own vehicle. The growing number of choices for Electric Vehicles and the Obama administration's goal to put 1 million EV's on the road by 2015 will require an infrastructure to support these vehicles.
One Stop Green, LLC facilitates environmentally friendly improvements to residential and commercial properties through distribution of green, energy efficient products and services. They offer every product needed for sustainable energy independence enabling homeowners, businesses and commercial property owners to master their usage by reducing waste and implementing efficient energy consumption methods. Their goal is to provide user friendly and practical long-term solutions to existing inefficiencies and their carefully selected products and professional installers offer a higher level of satisfaction and service for their customers.
Contact:
Nathan Kaufman
http://www.OneStopGreen.com
P: 877.449.9110|O: 713.541.2739|C: 210.846.5900
###