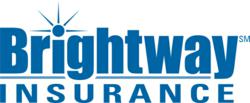 JACKSONVILLE, Fla. (PRWEB) April 06, 2012
Brightway Insurance is expanding the company's innovative insurance stores, with plans to open 40 new offices in 2012 and 65 in 2013.
From humble beginnings with one office, three employees and 2,000 customer policies in 2003, Brightway Insurance today has 100 offices, 500 associates and 130,000 policies in six states. The company's expansion plans include stores in 17 states.
All Brightway insurance offices operate under a consistent brand and focus on delivering customers a unique buying experience. In addition to representing a wide range of top-rated insurance brands, customers and agents benefit from a service support center that provides comprehensive service for all Brightway carriers.
"Ensuring that our customers benefit from a consistent experience built around a strong local-agent relationship is one of the things that sets Brightway apart," according to Michael Miller, the company's chief marketing officer. "We use technology to empower our agents, not replace them."
Current plans include opening offices in Alabama, Arizona, Colorado, Florida, Georgia, Kentucky, Louisiana, Mississippi, Missouri, New Mexico, North Carolina, Ohio, Oklahoma, Pennsylvania, South Carolina, Tennessee and Texas. Brightway Insurance opened 24 new offices in 2011.
"The number-one complaint we hear from insurance agents is that as they grow their books of business, their personal incomes don't keep pace," said David Miller, chief executive officer. "In a traditional agency, the agent's time is consumed with managing and maintaining customer policies instead of adding new customers. Our business model allows the agents to do what they do best: build relationships with new customers."
Taking advantage of a highly trained and dedicated service force allows agents to sell more and spend less on ongoing overhead. Brightway's ongoing investment in infrastructure and consistent execution has led to a 94-percent success rate of agency owners over the last eight years.
Beyond its growth plans, Brightway Insurance is already an Inc. 500|5000 fastest-growing company, having made the list for each of the last four consecutive years. The Jacksonville Business Journal ranked Brightway as one of the "Best Places to Work in Northeast Florida" from 2006-2011. Florida Trend also ranked Brightway Insurance seventh on its list of the top 100 "Florida's Best Companies to Work For," and in 2010, Insurance Journal named Brightway one of the "Best Insurance Agencies to Work For" in the country.
Those interested in agency ownership and employment opportunities should contact Matthew Flagler, manager of expansion and acquisitions at Brightway Insurance, at 877-893-1824 to sign up for the insurance agency information webinar.
###
For additional information, interview and image requests, contact The AXIA Public Relations Firm at 866-999-2942, ext. 700.