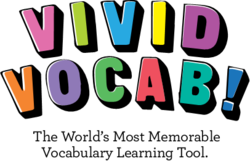 This was a partnership opportunity that made too much sense to ignore - we're thrilled to sponsor BLine, and to spread the word about what they have to offer to students.
New York, NY (PRWEB) April 04, 2012
As the competition for college admissions heats up around the country, more and more students are looking for affordable and easily accessible ways to prep for their standardized tests. The internet provides a perfect solution; SAT and ACT prep can be offered to students through the web with no geographic restrictions and with scale and pricing options that "brick and mortar" test prep institutions can't match. Two rapidly growing companies within the test prep space, Vivid Vocab and BLineTestPrep.com, have just joined forces to enhance their reach and spread their material to the students who need it most.
"Fifteen years ago, a low-income student in Montana who needed SAT tutoring was completely out of luck," says Anthony-James Green, president of Vivid Vocab and long-time champion of eLearning solutions for test prep. "Now, that same student just needs an internet connection." The vast majority of experienced SAT and ACT tutors can charge anywhere from $60/hour to more than $400/hour for their services. For students who can afford this price-tag, and who live within a reasonable distance of these tutors, this can be an extremely effective way to improve their scores. However, for the vast majority of students who either cannot afford $10,000 worth of SAT tutoring, or who don't live within 500 miles of a trustworthy SAT tutor, the internet has opened up a vast array of options that were previously unavailable. BLineTestPrep.com is one of these options - a completely free, interactive SAT tutoring website that allows students from around the globe to receive comprehensive SAT tutoring from the comfort of their own homes.
The catch? Because BLine offers its services for free, it needs ways to monetize its operations without compromising its quality. That's where Vivid Vocab, and SAT vocab program, comes in.
"What Bryce Young [the president of BLineTestPrep.com] has managed to put together is unreal," says Anthony-James of BLine's SAT tutoring program. "We all admire his service, and we want to do everything in our power to help him grow BLine and to reach as many students as possible. Sponsoring BLine was a complete no-brainer."
Within the next week, Vivid Vocab's ads will begin to run on BLineTestPrep.com, helping the free SAT prep software to pay for its operations, expand its marketing capabilities, and continue to add more content and features for its students.
"Considering that we're in the same space, but that we're entirely non-competitive, this was an easy decision that we were all happy to make," says Green of the sponsorship. Green's company, Vivid Vocab, is an SAT Vocabulary learning software that uses mnemonic devices and multi-sensory imagery to help students permanently memorize the most common SAT words in a fraction of the time it takes using traditional methods. Building on a growing trend of eLearning providers to create "video game-esque" experiences from their products," Vivid Vocab has hired teams of illustrators, developers, and professional recording artists to create a product that looks, sounds, and feels fun to use. "Having a product work isn't enough anymore. With the tools we have available for design, functionality, and interactivity, products should be fun to use, too."
Both BLine Test Prep and Vivid Vocab are up and running, and Green and Young hope to have their partnership in full swing by the end of the week. By forming their partnership, Green and Young hope to give students an increasing number of affordable, effective online SAT prep options.