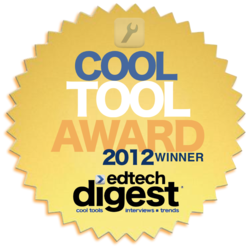 Rancho Cordova, CA (PRWEB) April 04, 2012
PowerSchool® for Parents, a free app for the iPhone®, iPod® touch and iPad®, is a winner in the 2012 "Cool Tool" Awards from EdTech Digest. Winner of the Mobile Device Solution category, this app revolutionizes the way that millions of busy parents stay in touch with their children's lives at school, with real-time access to their children's attendance, grades, assignments, scores and much more.
EdTech Digest is an e-zine featuring leaders in and around education dedicated to making a difference for future generations through the innovative use of technology. Now in its second year – this year doubling its number of entries – the EdTech Digest "Cool Tools" Awards Program recognizes transformative technology products and services in education.
More than 3,000 parents and students are downloading PowerSchool for Parents and its companion app, PowerSchool for Students, every day. A recent update to PowerSchool for Parents and PowerSchool for Students now includes support for Spanish and displays the student's current GPA and total absences from school.
Both apps were designed for fast, easy "one-thumb" browsing, allowing students and parents to access the latest school information quickly from any location. For parents, a "Live Feed" streams all information for all students in their family for the current week in a single view. Plus, integration with social media sites Facebook and Twitter allows students and parents to proudly share official grades and scores with their friends and family.
To use the apps, students must attend a school that uses PowerSchool version 7.1 or higher. For more information about PowerSchool, please visit http://www.PearsonSchoolSystems.com.
About Pearson
Pearson (NYSE:PSO), the global leader in education and learning technology, aims to help people make progress in life through learning. Pearson's leadership spans preK-12, higher education and corporate learning globally. Pearson's other primary businesses include the Financial Times Group and the Penguin Group. For more information about the K-12 Technology group of Pearson, visit http://www.pearsonschoolsystems.com.
For media inquiries:
Adam Gaber, Assessment and Information Group of Pearson, 800-745-8489
@Apgaber (twitter), adam(dot)gaber(at)pearson(dot)com