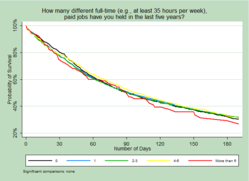 Employers may do well to revisit their employment screening process with an eye toward finding better tools that help them hire for the outcome they desire.
San Francisco, CA (PRWEB) April 05, 2012
Evolv, the leading provider of data-driven workforce selection, today announced results of a study by its advanced analytics group that looked at the relationship between previous work experience and future employment outcomes for hourly workers. The study, which analyzed applicant data and employment outcomes from more than 21,000 call center agents drawn from five major contact centers, found that agent work history is a poor predictor of future job tenure. See the full report at: http://bit.ly/Hf407F.
Employers of hourly labor in industries including fast-food dining, retail and contact centers often struggle with high turnover, and the associated costs of constantly hiring and training new employees. A common screening technique used by recruiters is to weed out "job hoppers" – those candidates who have held many short-term jobs
Don't Rule Out "Job Hoppers" and the Unemployed
Despite conventional wisdom, Evolv found previous employment duration says nothing about how long a person will stay in their next job. The study revealed virtually no difference in employment outcomes based on how many jobs a person had, or how many short-term jobs they had previously. In addition, there was virtually no distinction between the "perpetually unemployed" – applicants who had no jobs in the last five years –and applicants who had many jobs in that timeframe.
"These results show that one of the most common screening tactics for employers may actually have no value in predicting future employment success," said Michael Housman, Evolv's Managing Director of Analytics and the report's author. "Employers may do well to revisit their employment screening process with an eye toward finding better tools that help them hire for the outcome they desire."
Other Measurements More Predictive
Evolv data shows other information gathered during the application process is predictive of both attrition and on-the-job performance. More predictive content includes the applicant's personality, aptitudes, work style, technical skills, and fit for the position. By using more predictive data to make decisions, employers can expect to see more employees performing like their best employees.
Evolv's cloud-based talent management solution helps employers who hire hourly workers "connect the dots" between recruiting and performance by using its analytics platform to measure what makes a successful hire – and adjusting assessments accordingly. As candidates apply to jobs, Evolv measures them on wide range of attributes, and scores them based on predicted performance. Once hired, employee performance is compared to their measured traits. Evolv uses this information to tune the scoring algorithms to be more predictive, helping clients attract a more engage, more skilled workforce.
About Evolv
Evolv is the leader in Data-Driven Workforce Selection, enabling employers to improve productivity, retention, and customer satisfaction. It is the only solution that ties employee productivity data to hiring decisions, and uses this to improve the entire recruiting process. With the insight gained from on the job employee data used to calibrate workforce selection, companies can measurably improve their operations, brands and bottom lines. Evolv's technology is available as a cloud based software solution, as well as through Evolv's Recruitment Process Outsourcing suite of services. When replacing existing screening solutions with Evolv, clients report increased employee productivity of 5-10% while improving retention by 20-30%. Visit http://www.evolvondemand.com or call (866) 971-4473 and follow Evolv on Twitter @evolvondemand.