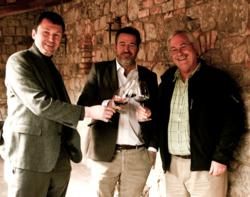 "From the vineyard to the glass, the addition of Sebastiano Rosa will bring an international perspective to our program," said Georg Salzner, President of Castello di Amorosa
Napa Valley, CA (PRWEB) April 04, 2012
Rosa will travel from his home in Bolgheri, Italy to consult with Painter's team on all aspects of Castello's Italian-style red wine program.
"From the vineyard to the glass, the addition of Sebastiano Rosa will bring an international perspective to our program," said Georg Salzner, President of Castello di Amorosa. "Our history is Italian; our winery is Italian style so it is natural that we partner with Sebastiano to create unique, Italian-style wines."
Rosa, the stepson of Nicolo Incisa della Rocchetta whose family owns Sassicaia, brings an extensive wine background to the team. Upon graduating from UC Davis in 1990, Rosa participated in the 1991 harvest at the storied Château Lafite Rothschild.
From 1992 until 2002, he was the General Manager at Tenuta di Argiano in Montalcino where he worked with legendary winemaker, Giacomo Tachis, considered by some, the father of the renaissance of Italian wine. While Sassicaia was the first wine in the renaissance, his other label, Solengo, was the number 8 wine in Wine Spectator's Top 100 and received 96 points in only it's second vintage.
"We are excited about Sebastiano's collaboration and contributions to our winemaking," said Brooks Painter, Castello's Director of Winemaking. "At Castello di Amorosa we are only interested in producing top worldwide quality wine. Sebastiano will help to us to continue to craft exceptional wines with distinct character and structure while respecting the unique Napa Valley terrior."
Rosa, the Technical Director of Tenuta San Guido from 2002 until 2011, managed the Sassicaia cellar where he started the second and third labels for Sassicaia: Guidalberto and Le Difese.
About Castello di Amorosa:
Following fourteen years of construction, Dario Sattui opened Castello di Amorosa on April 9, 2007. Situated in the hills above Calistoga, Castello di Amorosa- a family-owned winery- produces world-class wines which are sold only at the winery direct to the consumer. The castle winery was made with brick, wood and iron imported from Europe and combined with over 8,000 tons of local, Napa Valley stone. Today, Castello di Amorosa, a popular Napa Valley destination, offers a variety of wine tasting and touring options in a unique Tuscan castle setting.