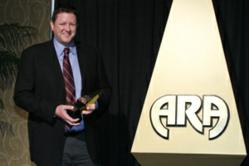 "We are thrilled to be recognized by the ARA as one of the best companies in the awards and recognition industry"
Issaquah, WA (PRWEB) April 05, 2012
The Awards and Recognition Association (ARA) recently awarded one of its members, Trophies2go.com, with one of the industry's highest honors – the 2011-2012 ARA Large Retailer of the Year.
"We are thrilled to be recognized by the ARA as one of the best companies in the awards and recognition industry," says Trophies2go.com President, Jeff Anderson. "This is a great honor and testament to our staff's dedication to our customers."
The ARA Large Retailer of the Year award recognizes general business practices based on integrity and a partnering approach to customer relationships. The selection process considered showroom design and presentation, website design, production technology, employee benefits, recognition industry involvement and community involvement. Finalists were also submitted to ARA suppliers for a vote.
Anderson is quick to give credit to others, most notably the Entrepreneurs' Organization (EO). "EO has been instrumental in providing me with the structure, fortitude and support to take this business to the next level," Anderson adds, "Our recent expansion is directly attributable to the confidence and support given by my World Presidents' Organization (WPO) mentor. The addition has enabled us to create a world-class production facility which allows us to easily accommodate the largest corporate awards orders."
While Anderson's company has reached a high level of success, there is still more to be done. "While growth and expansion is a part of our future plans, it is not everything. We still have a lot of work to do to educate our customers on the true value of recognition." He adds, "Some of our corporate awards, for instance, have an extremely high ROI when you factor in job satisfaction and employee retention."
Trophies2go.com Inc. consists of 13 awards-related websites and a storefront called Issaquah Trophy & Awards. Their operations include a 3,600 sq ft retail location in Issaquah, WA and a 10,000 sq ft production facility in Renton, WA. They produce and ship corporate awards and sports trophies to customers nationwide.