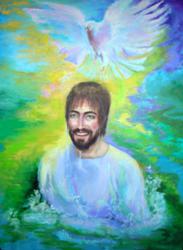 The whole point in Jesus' baptism is He became what I am so I could become what He is.
Castle Rock, Colorado (PRWEB) April 05, 2012
The latest Christian Art of Candis Kloverstrom, "Baptism of the Messiah," is now available at http://www.ArtisticImpactPublishing.com. As a 32 year Christian veteran she paints her belief in Jesus as the unique Son of God who came as Savior of the world. "Baptism of the Messiah" depicts the beginning of His public ministry that ends at the cross where He was a substitution for man's sins.
Kloverstrom states, "It was His humanity that enabled Him to completely identify with me and life's challenges. But, it was His divinity as God that made His sacrifice complete so when I exit this world I will be like Him."
The Amplified Bible states in Romans 6:3-4, "Are you ignorant of the fact that all of us who have been baptized into Christ Jesus were baptized into His death? We were buried therefore with Him by the baptism into death, so that just as Christ was raised from the dead by the glorious power of the Father, so we too might habitually live and behave in newness of life."
The Main Point in Jesus' Baptism Culminates at the Cross
"One thing seems clear; by the time he submitted to immersion at the hands of John, he knew of his appointment with the cross — and likely long before that," stated Wayne Jackson with the Christian Courier in the article, 'Why was Jesus Baptised.'
"Here at His baptism the death, burial and resurrection of Jesus is first prefigured," according to the Theopedia, "It is here at his baptism that the perfect one intentionally identifies himself with repentant sinners, and demonstrates his full humility. It is at his baptism where the redemptive ministry of Jesus Christ begins."
"My spirit was reconnected to the Holy Spirit Who is working out my soul's salvation, for it is Christ at work in me, healing my shattered heart, restoring my soul and healing my body (Phil. 2:12,13)…He doesn't want to give me strength; He wants to BE my strength…He doesn't want to give me wisdom; He wants to BE my wisdom…He doesn't want to give me love; He wants to BE my love," said Mark Virkler in his article on 'What was Crucified with Christ.'
About Candis Kloverstrom
"Because of what Jesus Christ did for me, I have the privilege to paint what God shows me. It is that faith-based artwork I share God's beauty with the world."
In the past Kloverstrom worked with brand development, design, and illustration. Creating work that connected to target markets through understanding needs makes a difference. It is that connection she uses today painting the essence of faith focusing her talent on painting truths discovered through Holy Spirit inspiration.
Kloverstrom adheres to the Christian fundamentals that God is who he says He is and has a plan for each person, and the power to carry that out. For more information on her latest artwork , "Baptism of the Messiah," go to http://www.ArtisticImpactPublishing.com.