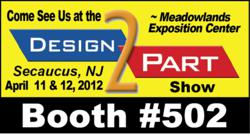 Design-2-Part Trade Show allows engineers and purchasers to browse and find manufacturers...
Niagara Falls, NY (PRWEB) April 10, 2012
Precious Plate is a leading electroplating service offering gold plating, silver plating, reel-to-reel plating and other precious metal plating options. On April 11th and 12th from 9:30AM to 3PM, Precious Plate will participate in the Design-2-Part manufacturing show in Secaucus, New Jersey at the Meadowlands Exposition Center.
The Design-2-Part Trade Show allows engineers and purchasers to browse and find manufacturers who can provide quality and cost-efficient solutions. The show also gives purchasers the opportunity to learn about new technology, see and touch materials in person, and discuss details of the products offered with a manufacturing representative.
Precious Plate has reserved booth #502. Participation in the trade show will allow Precious Plate to display and discuss with potential buyers the electroplating process and materials used. Precious Plate is looking forward to the show and the potential business it will bring.
To learn more about Precious Plate and the electroplating services they offer, contact them at (800) 684-4774 or visit their website at preciousplate.com. For more information about the Design-2-Part Trade Show, visit d2p.com/ShowInfo.
About Precious Plate:
Since 1973, Precious Plate has provided exceptional selective electroplating services by continually adapting electroplating equipment and processes to the specific needs of a wide variety of manufacturers. Precious Plate's electroplating equipment and selective electroplating processes can deposit precious metals with extreme selectivity, which reduces the amount of precious metal used in the electroplating process and ultimately the cost to customers. The company's goal is to provide ideal performance without compromise.