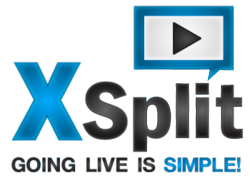 With XSplit Broadcaster 1.0, our users can now stream their game play or other types of HD video via one of the popular streaming services." Ken Plotkin, Hauppauge CEO
Hong Kong (PRWEB) April 06, 2012
SplitmediaLabs today announced the release of XSplit Broadcaster 1.0. This release, which is scheduled for April 12, 2012, marks the end of an 18 month long beta program.
XSplit Broadcaster 1.0 allows users to easily set up and produce high quality live streaming events both on private and public networks. XSplit has pre-configured streaming plugins that work "out of the box" with several of the most popular live streaming service providers, hereunder Justin TV, Livestream.com, Own3D.TV, Ustream.TV and Twitch.TV.
"During the beta period, we have received massive feedback from users all over the world which has resulted in a better product and an exciting product roadmap for future releases. We haven't spent the last 18 months only on developing the upcoming XSplit Broadcaster 1.0, but also on developing and preparing new technologies that will be introduced as part of our rapid release cycle roadmap during 2012 and 2013. We have the future planned out pretty well and will continue to pay close attention to the requirements of our users," says CTO of SplitmediaLabs, Henrik Levring.
XSplit supports media from a variety of sources such as video and image files, web cameras and IP-Cameras. The upcoming XSplit Broadcaster 1.0 also includes support for popular capture card products from leading manufacturers such as Black Magic Design, Hauppauge and AVermedia.
"We are impressed with the development of XSplit's Broadcaster and delighted that we have been able to work with the XSplit team to implement live streaming support for our HD PVR and Colossus products. Users usually buy HD PVR and Colossus for recording to disc HD video from video game consoles, cable TV or satellite set top boxes. With XSplit Broadcaster 1.0, our users can now stream their game play or other types of HD video via one of the popular streaming services," says CEO of Hauppauge, Ken Plotkin.
While a licensed and paid option has been available for a while, the beta testers of XSplit Broadcaster have been able to use the XSplit product during the beta program on a no-commitment basis. With the release of XSplit 1.0 users will still be able to have access to a free version of XSplit Broadcaster with a limited set of features.
XSplit Broadcaster 1.0 will be introduced as subscription based software at the following planned introductory price (in USD).
Personal License
3mos. - 14.95
1yr. - 39.95
3yrs. - 79.95
Premium License
3mos. - 24.95
1yr. - 59.95
3yrs. - 119.95
For an overview of the difference between a Personal and a Premium XSplit license please refer to the following feature matrix.
About XSplit Broadcaster
The XSplit Broadcaster is a revolutionary live stream broadcast product published and distributed by SplitmediaLabs. Since its public beta release in November 2010 the product has become the de-facto standard for live stream production in many areas including social and professional game broadcasting.
Go to http://www.xsplit.com to try out the latest version of XSplit Broadcaster today!
For information about bulk licensing and licensing of XSplit Broadcaster to enterprises or organizations please contact license(at)xsplit(dot)com.
About SplitmediaLabs
SplitmediaLabs Limited is an innovative, Hong Kong based software company specializing in the development of applications and technology that enables rich media to be used for visual presentation and communication. XSplit Broadcaster is developed and published by SplitmediaLabs Limited.
For information about enterprise licensing of core technologies contact licenseinfo(at)splitmedialabs(dot)com.