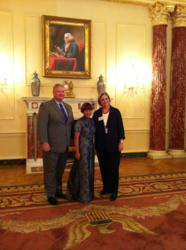 Washington, D.C. (PRWEB) April 10, 2012
The Foreign Service Youth Foundation is a not for profit organization that "The Foreign Service Youth Foundation supports children, teens and families affiliated with U.S. foreign affairs agencies." Through newsletters, sponsorships and contests, the foundation provides a community for young people to make the most of their Foreign Service experience and adapt to changing environments. The Annual Essay Contest, sponsored by Northern Virginia Property Management and Sales Services firm, McGrath Real Estate, will close it's entry submission on April 30th, 2012.
McGrath Real Estate was founded in 1976 by the McGrath family. Jim McGrath, President and Principal Broker and his brother, Vice President, Tim McGrath spent much of their childhood traveling the world with the father, a Foreign Service Officer and mother. Understanding the unique challenges and needs of owning a home while overseas, the McGrath's began their Northern Virginia property management firm. Now decades later, Jim and Tim own and manage the business. Inspired by their own experience as Foreign Service youths, the McGrath family chose to become involved with the Foreign Service Youth Foundation. In early November 2011, Jim McGrath was nominated to sit on the Foreign Service Board of Directors and is one of the judges for the Essay Contest.
Each year, the judges choose three middle school and three high school winners who receive cash prizes and are honored at the Foreign Service Youth Awards Ceremony in Washington D.C. These years essay questions are:

High School students: "Globalization is a process that opens diverse societies to economic, political and social influences from beyond their borders. How would you, as a foreign service youth, build on this process to improve communication between people from different cultures with young people from the United States?"
Middle School students: "Thanks to the worldwide availability of e-mail, Facebook, Skype, YouTube and online games, Third Culture Kids can stay in touch with friends, classmates and family easily. Access to such varied forms of communication technology allows kids the freedom to reach out and maintain a wide range of relationships around the world. How can (or do) you as a foreign service youth make use of these communication tools to create deeper awareness across the globe. In describing your efforts to facilitate greater cultural appreciation and understanding among young people, feel free to let your imagination roam and consider a range of alternatives-- including designing your own video game or using different types of software -- in your own approach."
If your child is interested in participating in this year's essay contest, visit the FSYF.org for submission information.
About
McGrath Real Estate Services has served the Northern Virginia region since 1976 as an expert in property management and real estate sales. Founded by a Foreign Service family they understand and appreciate the unique needs of homeowners serving our country abroad. For more information please visit McGrathRealEstate.com.