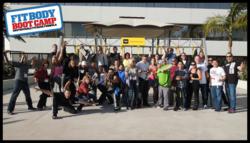 This partnership truly benefits our Fit Body Boot Camp owners and clients - Bedros Keuilian, President and Founder of Fit Body Boot Camp
Chino Hills, CA (PRWEB) April 06, 2012
In today's environment, fitness boot camp clients are seeking new and different workout programs. This demand has driven innovation and ingenuity in the fitness industry, bringing fitness exercises and techniques to an entirely new level.
As a leader in fitness boot camps, Fit Body Boot Camp is committed to ensuring that our owners stay at the forefront of workout modalities and programs to address the needs of our clients. Thus, we are proud to announce our partnership with TRX, the leader in Suspension Training.
"We continue to evolve and seek out fitness training products and techniques to keep our boot camp clients challenged" says Bedros Keuilian, President and Founder of Fit Body Boot Camp. "We are extremely excited with our partnership with TRX, given their leadership in the market as a result of the quality of their products coupled with their on-going focus and commitment to education. This partnership truly benefits our Fit Body Boot Camp owners and clients."
"One of our goals at TRX is to partner with like-minded companies that strive to offer "best in class" gear, staff training and cutting-edge fitness programs. This is clearly a focus within Fit Body Boot Camp and we look forward to working together," Jeff Huling, TRX Strategic Accounts Director.
To find a Fit Body Boot Camp location near you, please check the Fitness Boot Camp directory at http://www.fitbodybootcamp.com
About TRX
TRX delivers world-class training products and exercise programs for athletes, fitness professionals, physical therapists, first responders and all branches of the US military. TRX Training designs and sells original products of innovative design and premium quality construction. Our product line of Suspension Training® and Rip™ Training equipment and exercise programs is changing the way athletes train for sport, soldiers train for combat and trainers and exercise instructors train their clients.
About Fit Body Boot Camp
Fit Body Boot Camp is one of the fastest growing fitness boot camp franchise companies. Fit Body Boot Camp's Global Goal is to expose and engage twenty percent of the world's population to a healthy and fit lifestyle by 2020. Fit Body Boot Camp was developed by 2 industry leaders in the fitness industry. Fit Body Boot Camp Owners currently train approximately 400,000 clients on an annual basis. To find out more about owning a Fit Body Boot Camp franchise, you can contact us at opportunity @fitbodybootcamp.com or on (888) 683-3222 ext. 1.