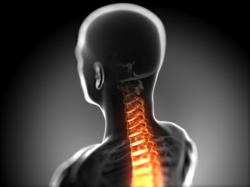 This Bone Graph is meant to help patients but in some cases, the cure is much worse than the disease.
-Rudolph F.X. Migliore, Esq
New York (PRWEB) April 11, 2012
The Defective Medical Device Law Firm of Rudolph F.X. Migliore, P.C. is now accepting cases of those injured by a Medtronic Infuse Bone Graph. Medtronic Bone Graphs are implanted in the spine to stimulate bone growth. First approved in 2002 by the FDA for only anterior approach lumbar fusion surgery, nearly 100,000 people are implanted with this device every year. 1
However, as numerous publications including the Wall Street Journal have reported, use of the Medtronic Infuse Bone Graft has been associated with major injuries and damages. Bone growth can become rapid and uncontrolled. This bone graph has also been associated with many types of cancer. Off-label use can also result in severe neck swelling, difficulty breath, swallowing and speaking because of airway compression. The bone growth may cause nerve injuries or severe pain in the extremities. Some patients have reported infertility as a result of the implant. 2, 3
Recent investigations have discovered that these bone grafts have been used for off-label use and serious complications have resulted. The off-label use involves implantation in the lumbar or cervical spine. Further, surgeons with significant financial ties to Medtronic allegedly failed to disclose these complications in clinical trials and studies. 2,3
Both congressional subcommittees of Congress and the US Department of Justice have issued subpoenas to Medtronic relating to off-label use of the Medtronic Infuse Bone Graph. Chairman of The Senate Finance Committee, Senator Baucus and Senator Grassley wrote a letter to Medtronic in June 2011 stating:
"Last year, the Milwaukee Journal Sentinel reported that a Medtronic-funded study published in 2004 found that 75% of bone morphogenetic protein 2 (BMP-2) patients experienced ectopic bone growth, where potentially harmful bone growth occurs outside of the fusion area. The authors, who had financial ties to Medtronic, 'concluded that although not desirable,' the ectopic bone growth 'did not appear to have an ill effect on the patients.' However, in a separate 2008 study conducted by physicians without financial ties to Medtronic, "neurological impairment occurred" in five patients who had the same ectopic bone formation.
According to the New York Times, a recent study 'found that men treated with Infuse developed a condition that causes temporary or permanent sterility at a far higher rate than men who received a bone graft.' This link to sterility was not reported in the original Medtronic-funded study.2 In addition, the Milwaukee Sentinel Journal reports that one author of the original study, Thomas A Zdeblick, an orthopedic surgeon at the University of Wisconsin School of Medicine and Public Health, received 'more than $23 million in various royalty payments from Medtronic since 2002.' In addition, 'Zdeblick also is the editor of the journal where two of the Infuse papers that failed to mention the link [to sterility] were published.'
We are also concerned that other severe side-effects of Infuse and similar bone-growth products developed by Medtronic may have been unreported or under-reported in clinical literature. Reports have linked Infuse to potentially fatal swelling in the neck and throat, and radiating leg pain. Concerns have also been expressed about a potential link to cancer." 3
The Committee went on to request a score of documents and payment records.
Rudolph F.X. Migliore, P.C. is investigating cases of patients who received a Medtronic Infuse Bone Graph off-label and have suffered serious side-effects including neck swelling, airway compression, many types of cancer, uncontrolled bone growth, arm and leg pain and male infertility. If you or a loved one have had a bone graph and suffered complications contact our office today for a free case evaluation at 631-543-3663 and visit migliorelaw.com/dangerous-medical/medtronic-infuse-bone-graph.
With over three decades of expirence, the law firm of Rudolph F.X. Migliore, P.C. is well positioned to help victims of Medtronic Infuse Bone Graphs. The firm has handled over 1,200 product liability cases and works with co-counsel to obtain major verdicts.
Rudolph F.X. Migliore, P.C.
353 Veterans Memorial Highway
Commack, NY 11725
(631)-543-3663
MiglioreLaw.com
1.fda.gov/MedicalDevices/ProductsandMedicalProcedures/DeviceApprovalsandClearances/Recently-ApprovedDevices/ucm083423.htm
2. online.wsj.com/article/SB10001424052702303627104576413663395567784.html
3. pharmalot.com/2011/06/spinal-tap-congress-investigates-medtronic/
4. finance.senate.gov/newsroom/chairman/release/?id=a7e974b6-b4b6-4e2c-a738-edefac30fcb6