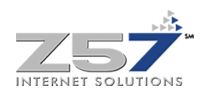 Z57 Inc., a leading provider of real estate internet marketing and social media services, introduces Premium package for Facebook - a custom marketing platform for real estate professionals.
San Diego, CA (PRWEB) April 04, 2012
Z57 Inc., a leading provider of real estate internet marketing and social media services, introduces Starter and Premium packages for Facebook - custom marketing platforms designed to offer real estate professionals an attractive business Timeline page enhanced with cutting-edge lead capture tools. As always, this new product comes with one-on-one Z57 Academy training - designed to teach clients how to leverage their Facebook Timeline Business page and dozens of other current marketing strategies to generate success for their business.
Starter package provides clients with a custom Facebook timeline business page – complete with a branded cover image, matching welcome page and three custom tabs. Starter tabs include "About Me" – a custom welcome tab with detailed information about the Realtors® specialties and market area, "Visit My Website" – which redirects visitors directly to the Realtor's website for lead capture optimization and "View My Listings" which directs visitors directly to the Realtor's listing page.
Premium package for Facebook is the next level of service – providing additional enhancements and lead capture tools that add value to the Facebook business page by turning it into a functional secondary website for the Realtor. Premium contains everything outlined above in the Starter package plus two additional tabs – "Home Search" and "Recent Home Sales." On the "Home Search" tab, visitors can search available homes on the market inside the Realtors Facebook page using Z57's custom integrated MLS search. With "Recent Home Sales," visitors are able to see home values, determined by current market data from recently sold homes in the surrounding area. With the Premium package, all of this can be done without ever leaving the Realtor's Facebook page - allowing Z57 clients to take advantage of the many lead generation opportunities on Facebook. Z57's Facebook marketing platform is charted for more enhancements and service tiers in the coming months.
Current Z57 clients have the opportunity to chose a service option that includes either the Starter or Premium package – allowing them to take advantage of the powerful add-ons available in the Premium Facebook package. Both Facebook packages are also available as a standalone service to any real estate professional seeking a social media marketing solution, regardless of their website provider. Both current clients and standalone clients receive Z57 Academy training and unlimited support.
About Z57 Inc.
Founded in 1998, San Diego-based Z57, Inc. is an internet marketing company for real estate professionals. Z57 specializes in providing complete marketing solutions including optimized websites, lead capture tools and internet marketing training through Z57 Academy. Recognized as San Diego's No. 1 Web Development and Design Company for 10 consecutive years, Z57 provides thousands of clients with proven solutions and personal service. For more information about Z57 Inc., visit http://www.Z57.com.