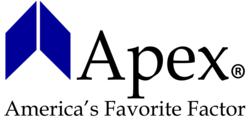 To us, it's about the service and most importantly the relationship.
Fort Worth, TX (PRWEB) April 05, 2012
Apex Capital, America's Favorite Factor, exhibited at the Mid-America Trucking Show (MATS) for the third year on March 22-24. Apex provides freight factoring services as well as an exclusive fuel program for carriers and attended MATS in Louisville, Kentucky to support and advise prospects and clients. MATS is the largest annual heavy-duty trucking event in the world with more than 76,000 trade professionals, representing every state, in attendance.
This year Apex spoke with thousands of attendees and gave away five thousand lanyards and other promotional products, including an iPod Touch. Current clients came by to shake hands, take photos and collect their free gift. As announced this week via social media, Triple O Transport, LLC out of Poseyville, IN was the lucky winner of the iPod Touch.
Owner operators, for-hire trucking companies, company drivers, private fleets and other industry professionals attend MATS to pick up promotional giveaways and explore resources to provide their businesses with a competitive edge. Exhibitors participate in MATS to market new products and services, increase brand awareness and connect with suppliers, customers, and prospects. Apex utilizes these events to improve understanding of industry needs through interaction with clients, prospects and other exhibitors.
###
ABOUT APEX CAPITAL
For over sixteen years, Apex Capital, based in Fort Worth, Texas, has been a leader in providing freight bill factoring services for the trucking industry. Over the years, our company vision has remained the same: to be known for the legendary service we provide, the value we create, and the flawless execution we deliver. We want to provide more than just cash for our clients. To us, it's about the service and most importantly the relationship. Apex is different and it's our people that make us different. We value honesty and integrity as much as the freight bills we buy. That's one of the many reasons we've been voted as America's Favorite Factor and have been one of the top companies to work for in Texas for 5 years. For more information call 800.511.6022 or visit http://www.apexcapitalcorp.com.