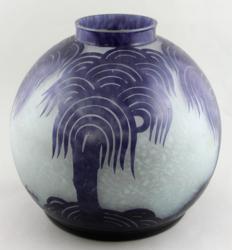 Beverly, MA (PRWEB) April 06, 2012
A rainbow of color filled the Kaminski auction gallery as a stunning collection of Le Verre Francais glass went up for sale at Kaminski Auctions 20th Century Modern, Rare Lamps and Art Glass sale on Sunday, March 25th. A prominent Boston Art Deco collector lovingly curated, this wonderful collection of art glass over a forty-year period. Rare colors, shapes and sizes from the famous French glassworks company Schneider of Epinay-sur-Seine were on display. Many of the pieces, monumental in size, were rare patterns highly coveted by collectors.
Each piece in the collection, with the signature blue, white and red candy cane was guaranteed authentic, and of the period. A color catalog was sent to art glass dealers and collectors all over the country and bidding was intense, from the Internet, phones and in the large audience that attended.
A rare Le Verre Francais cameo glass cache pot, with a mottled orange, green, and brown coloring of the "Cypress" pattern and only 7 inches high by 9 7/8 in diameter sold for $6600.00, the top price paid from the art glass lots.
A Le Verre Français, cameo glass vase, in the "Palm pattern", signed Charder, and a monumental Le Verre Français, vase, of the "Nenuphar" or "Water Lily" pattern, both brought a price of $5950. The "Water Lily" vase was a spectacular combination of rose, pink and gold glass and stood twenty-three inches high. Another monumental vase, in the "Cedres" or "Cedar Cone" pattern, in lovely shades of apricot, orange and red sold for $5250.
All of the Le Verre Francais art glass collection sold extremely well and bidding was competitive. A "Lizard" pattern vase in yellows and reds sold for $3600, while patterns like the "Rhododendron " and "Ash Tree" brought $3120 and $2880 respectively.
In addition to the art glass, the collection included a Louis Comfort Tiffany, geometric table lamp with a bronze turtleback base that was the top lot of the sale, selling for $16,800. The lamp was signed Tiffany Studios New York #1493 and the base was signed, #587, as well.
In addition to Tiffany, lamps from the collection included a Bigelow Kennard leaded glass table lamp with a cast bronze base that sold for $4200 and two Le Verre Francais table lamps. The first a "Rose Savage" or "Wild Rose" pattern that sold for $2760 and the second the "Frenes "or "Ash Tree" pattern selling for $2880. A Mark Frankart table lamp in the collection brought $2880.
There was also a wonderful selection of Art Deco sculpture on offer in the sale. Two Albert Wein (American, 1915-1991) sculptures from a private collection included a "Large Prometheus" bronze on a black marble base circa 1947-48 that sold for $13,200, and the "Fountain of Youth" from Wein's erotic period that sold for $10,800.
" Le Comet" a polished bronze by the French sculptor, Maurice Guiraud-Riviere (1881-1947) brought $16,800. A Bruno Zach (1891-1935) bronze and ivory sculpture on black marble base sold for $4750, while a G. Gori bronzed white metal and ivory art deco figural group of a woman with two borzoi on a marble base brought $3600. All from the same Boston Art Deco collector.
This was the inaugural Modern sale for Kaminski Auctions; the next is planned for July. Nathan Russell, the new modern specialist put together an outstanding selection of mid century modern furniture, art and decorative arts to compliment the Art Deco portion of the sale.
The top lot in the Modern sale was a 20th century Leonardo Nierman (Mexican b.1932) large-scale bronze sculpture entitled "Peace" from a Palm Desert collection. Four phone bidders and the Internet drove the final hammer price to $16,800. A 20th century Bruce Stillman (American b.1958)
stainless steel kinetic sculpture with rotating elements from the same estate sold for $9600.00
A Dame Lucie Rie (Austrian. 1902-1995) stoneware studio pottery vase from the same collection peaked multiple customers' interest at the preview. The vase was hand thrown and formed of pink and grey pitted volcanic glaze. Circa 1960's to early 1970's with the artist's impressed LR cipher, it sold for $9900.
Top prices for paintings in the Modern sale included a David Wu Ject-Key (Chinese 1890 - 1968), woman with cat, oil on canvas, signed lower right with both English signature, chop, and Chinese signature, that sold for $3600, and a Louise E. Marianetti (American 1916 - 2009), self portrait, oil on board, signed and dated 1942 that sold for $3360. All prices quoted include buyer's premium.
Kaminski Auctions located on the North Shore of Boston has been serving the New England antiques market for over 25 years, as a full service auction house and appraisal service for fine art, antiques and estates.
With two locations in Beverly, Massachusetts, including a new state of the art auction gallery located at 117 Elliott Street, and a historic 1850's barn and office facility at 564 Cabot Street Kaminski Auctions hosts 16 auctions a year.
In today's highly competitive market of fine art and antiques, Kaminski Auctions provides its customers with bicoastal services and marketing with west coast offices in Beverly Hills and San Diego, California.