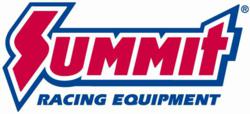 40 colors you can spray at home without breaking the rules--easy to mix and apply.
Tallmadge, OH (PRWEB) April 04, 2012
Summit Racing's new Low VOC 2-Stage Paint System is formulated with fewer volatile organic compounds (VOCs) to comply with environmental regulations, including California.
Even better, the Low VOC 2-Stage Paint System provides a professional-quality finish that can be sprayed in a home shop.
The system includes a choice of 40 basecoat colors, high-solids clearcoats, high-build DTM primer, epoxy sealer, and reducers. Always check local laws before using any solvent-based automotive paint.
Summit Racing also offers a Spray Gun Pro Pack that features a high-quality DeVilbiss paint and primer gun kit, a gun holder, SAS Safety paint coveralls, head and neck protector, and a respirator.
Customers can get product and ordering information on the Low VOC 2-Stage Paint System at SummitRacing.com