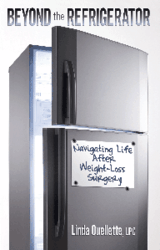 This new book details the physical and emotional changes necessary for successful weight-loss surgery.
Tucson, Ariz. (PRWEB) April 10, 2012
Bariatric surgery saved the author's life, but the operation was just one step in her journey to a healthier body. This new book details the physical and emotional changes necessary for successful weight-loss surgery, following author Linda Ouellette's story and the experiences of others. She shares not only her successes but her setbacks and disappointments, addressing issues like shame, perfectionism and unrealistic expectations, hoping to help others by providing a real-life point of view of bariatric surgery.
"Beyond the Refrigerator" shares the author's struggles with food issues and weight. When she turned to alcohol to quiet her obsession with food, she became an alcoholic. Although a 12-step program helped her get sober, she replaced the sugar from drinking with food. This led to feelings of shame when Linda realized she had trouble controlling how she ate. Even deciding to have the weight-loss surgery had its issues; instead of choosing surgery to reduce health risks, she chose it because she was convinced it would remove her overeating problems. Although the surgery did enable her to lose weight, her psychological issues with food remained.
Linda also reveals her husband's perspective on her surgery, revealing his doubts and hopes for her success, as well as his feelings on everyday realities like grocery shopping and eating together. A section on what doesn't work for weight-loss patients and a section on what does work provide helpful, practical advice for patients and those considering the procedure. For instance, Linda writes that fad diets, trying to compulsively exercise and blaming herself did not help her lose weight. What does work, on the other hand, is mindful eating, an extended support system and making one decision at a time – not thinking in "forever" terms. This book offers an insider's perspective on weight-loss surgery that can help readers explore whether that option is the right decision for their own health problems.
Author Linda Ouellette is a licensed professional counselor with a master's degree in counseling and psychology from Prescott College. She has worked as a trauma therapist at a world-renowned rehabilitation center and in private practice. Ouellette, who had weight-loss surgery in 2008, is expanding her practice to serve others who have undergone bariatric procedures.
For additional information, please visit http://www.beyondtherefrigeratorbook.com.
Beyond the Refrigerator: Navigating Life After Weight-Loss Surgery
Linda Ouellette
Dog Ear Publishing
ISBN: 978-1-4575-0836-3, 96 pages, $12.95 US
Available at Ingram, Amazon.com, Barnes & Noble and fine bookstores everywhere.
About Dog Ear Publishing, LLC
Dog Ear Publishing offers completely customized self-publishing services for independent authors. We provide cost-effective, fast, and highly profitable services to publish and distribute independently published books. Our book publishing and distribution services reach worldwide. Dog Ear authors retain all rights and complete creative control throughout the entire self-publishing process. Self-publishing services are available globally at http://www.dogearpublishing.net and from our offices in Indianapolis.
Dog Ear Publishing – self-publishing that actually makes sense.