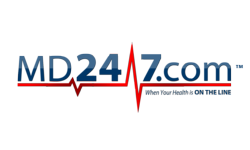 The MD247 blog is a health resource.
Tampa, FL (PRWEB) April 04, 2012
On Tuesday, twenty-four hour telephonic doctor network MD247 announced the secondary launch of its telemedicine blog. The MD247 blog was initially launched as an informational resource for people interested in the subjects associated with telemedicine. The MD247 staff determined that a single blog created just for the purpose of discussing telemedicine was falling short, and that it was necessary to reconfigure the MD247 blog to include subjects ranging from erectile dysfunction to the symptoms of influenza. The ultimate goal of the MD247 blog reconfiguration is to provide MD247 program members, outside readers and people researching specific maladies the opportunity to learn more about topics associated with living a long and healthy life.
The MD247 blog is currently co-authored by MD247 Founder Thomas Meehan, and Social Media Manager Michelle Germann. Topics covered by each range from the ongoing battle to provide telemedicine credibility in a landscape where anonymous reports can be filed on sites like Ripoff Report, to a mundane discussion about the removal of the product Primatene Mist from retail store shelves. The goal of any MD247 blog article is to spark the interest of the reader, potentially engaging that person enough to pose their own questions regarding health and wellness. An additional new feature on the MD247 relaunched blog is the opportunity for the reader to post his or her thoughts on a specific article.
MD247.COM (MD247) is a Seminole Florida based telemedicine provider. The company provides discounted access to medical services, a twenty-four hour Talk to a Doctor hotline, a twenty-four hour Talk to a Nurse hotline and "peace of mind" interim travel insurance. MD247 employs a 100+ people in the St. Petersburg and Tampa Florida area, and has 50,000(+) MD247 program members. The company additionally participates in nationwide charitable endeavors for veterans of any branch of the United States armed forces.