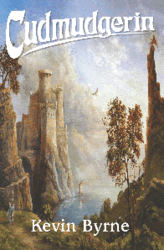 (The book) follows Mike's quest as he's accompanied by a cast of quirky characters to find his family.
Somerville, NJ (PRWEB) April 12, 2012
A dream vacation to visit the home of his ancestors turns into a nightmare for Mike Mallon and his family in this new young adult/fiction fantasy book from Dog Ear Publishing that features magical beings and deadly enemies.
The Mallon family has been looking forward to an adventure-filled trip to Ireland, following Mike's ancestors who lived in the seaside town of Cudmudgerin, a land of rugged beauty. As this story recounts, they don't bargain for a treacherous storm on the night they arrive and a related power outage that finds them staying at Lord Mounbatten's Castle instead of Nelly's Bed and Breakfast. The disappearance of Daphne Mallon and her son Seamus from the castle deepens the mystery of Curmudgerin, which seems to be living up to the fascinating tales about the town handed down through the years.
"Cudmudgerin" follows Mike's quest as he's accompanied by a cast of quirky characters to find his family, including the caretaker of the castle, a leprechaun look alike who can see Seamus' "imaginary friend" (who's actually a young wizard with an agenda), two goblins and Nelly, a fairy with magical powers. A magical map they receive in the other dimension will lead them to a key that will unlock the mystery to rescuing Mike's loved ones. During this unforgettable magical tale, Mike makes new friends with a quirky cast of characters, but will his new acquaintances and the skills they share be enough to help him fulfill his quest and reunite with his wife and son?
This is the first fiction book for author Kevin Byrne, who also wrote "Clonard," a collection of short stories. An avid reader from an early age, Byrne has spent years writing for many publications and now is focusing on young adult/fiction fantasy writing. A native of Belfast, Ireland, Byrne now lives in New Jersey.
----------
For additional information, please visit http://www.kevinbyrneauthor.com.
Cudmudgerin
Kevin Byrne
Dog Ear Publishing
ISBN: 978-1-4575-0968-1 228 pages $14.95 US
Available at Ingram, Amazon.com, Barnes & Noble and fine bookstores everywhere.
About Dog Ear Publishing, LLC
Dog Ear Publishing offers completely customized self-publishing services for independent authors. We provide cost-effective, fast, and highly profitable services to publish and distribute independently published books. Our book publishing and distribution services reach worldwide. Dog Ear authors retain all rights and complete creative control throughout the entire self-publishing process. Self-publishing services are available globally at http://www.dogearpublishing.net
and from our offices in Indianapolis.
Dog Ear Publishing – self-publishing that actually makes sense.